National Roll of the Great War says this of Wilfred Tearle:

Wilfred Tearle 1896 of Bramley, Leeds is the immediately younger brother of Horace Tearle 1892 of Wortley, Leeds. You will find there the common threads of their story, as well as their family history. Horace joined the Yorkshire Hussars, so the two men did not have to share the horrors of the battlefield with each other. The writers of the National Roll captured Wilfred's story, but for some reason did not retain their copy of Horace's, if we assume that someone told them. Both these men had a war of nightmare proportions and this is the extent of Wilfred's: Ypres in Belgium, Albert on the Somme, being wounded twice in one battle and then in another. When you watch newsreels of WW1 soldiers running over the parapet of their trenches, charging towards the enemy (and often only walking) wearing a tin hat for protection and carrying a .303 rifle with bayonet fixed, you know that no-one in his right mind would ever do such a thing willingly, but Wilfred did it multiple times, and at some cost to himself.
If we have a quick look at the 1911 census, again.

you will see that Wilfred is a cloth finisher, most likely in a woollen mill, where they used combs to tease out the surface of the cloth. It is not without its dangers, in comparison with mining, but freely rotating wheels and long leather belts that swished about in the air were a constant menace. Nothing to guard them from hitting the workers, of course.
If National Roll had not written about Wilfred, I would never had known he had a military career, except for an enigmatic medals card, that awarded no medals.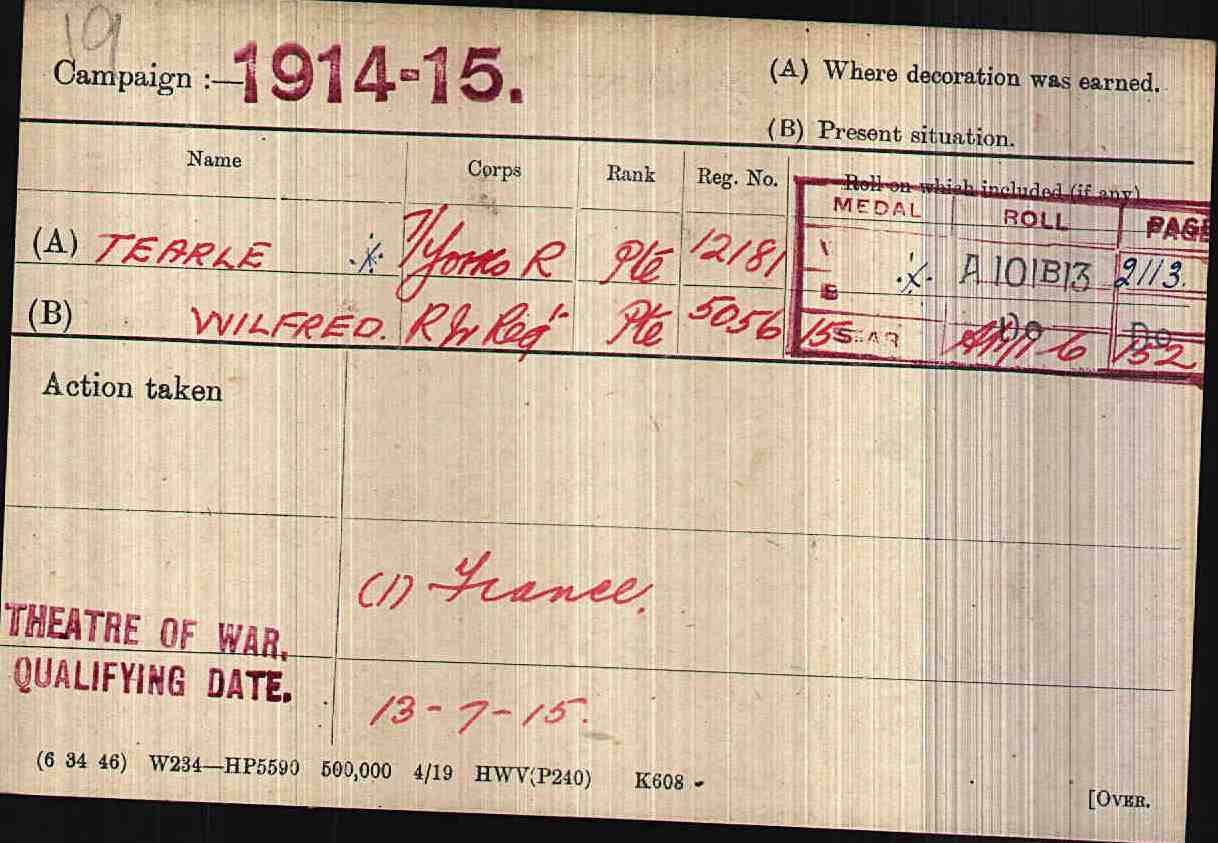 He arrived in France on or about 13 July 1915 and he was finally allowed to go home in June 1919. Most other soldiers were allowed home in January or February 1919, but I suppose it may have been something to do with the conditions he signed up to that held him back, probably helping to clean up the mess in Europe. From this card, we can safely say that Wilfred was awarded the 1914/15 Star, the Victory Medal and the British Medal. The second regiment (I think it is the Irish Regiment) was a procedural transfer only. Many of the regiments that started in the Great War were so decimated at the end of it, that their headquarters were amalgamated into offices large enough to accommodate the staff needed to process the demobilisation of several million men coming back to England. I doubt that Wilfred ever met a single soldier of the Irish Regiment.
When he was finally allowed home, he married Dorothy Gladys Thornton on 14 Apr 1922, in the church and parish we introduced you to with Horace –

St John the Evangelist, Wortley-de-Leeds. And who should be a witness at his marriage? Horace. The two families at this wedding are working-class to the core, Wilfred is a cloth presser, his father is a miner and Dorothy's father is a book-maker. I do not think you will find him in a shop or a factory, you will find him at the race-track and the dog-track.
Wilfred and Dorothy had just one child about whom I know very little; Wilfred Bryce Tearle, born in Bramley, Leeds in 1924 and died in Blackpool in 2003.
Wilfred's injuries would have had a profound effect on the rest of his life. The pain of those injuries would have dogged his every move, and the nightmares occasioned by the dreadful things he had seen and done would have accompanied him to bed every night of his life. Dorothy must have been an angel.
I'm afraid I have no knowledge of when he died, the Yorkshire authorities are always changing Tearle into something else – Teale, Tearly – whatever name it might be, I cannot find it.
If anyone knows the story of Wilfred and Horace better than I do, please contact us using the email address on the Contact Us page; I would be very happy to fill out this story with much more detail.