All photos and documents on this page courtesy Tasmanian State Library and remain copyrighted to them.
The story of the Tasmanians starts for me with an email from Richard in March this year, 2007. He had found some Tearle headstones in a graveyard, on the Tasmanian State Library website.
"There are 5 pictures, but 4 are of the same stone and appear to be of:
Minnie Maud
Arthur W Floyd
Henry
Katherine
William d1919
But one of the pictures states also the grave of Lucy Ethel – though my poor eyes cannot see that!
The other stone is of Ernest, but pretty useless information wise…"
When I tried the site, and entered Tearle into the Search, I found the headstones, too. They were in the Lefroy General Cemetery, just outside Launceston. Rosemary deepened the mystery when she found a William Tearle who died in 1919 in Opotiki, NZ.
Here are the headstones that started it all – Henry and Katherine and their family
…and Ernest Tearle. But who were they, and what was their story?
I sent Aus $20 to Marie Gatenby, the researcher at the State Library, and she sent me some surprising information, and some pictures and documents she said I could reproduce here.
Firstly, there was a picture of the small bronze plaque attached to the base of the headstone above, in memory of Lucy Ethel.
Marie wasn't able to reproduce for me the headstone on Ernest's grave because she said it wasn't able to be photographed. However the inscription said:
"In Loving Memory of
ERNEST TEARLE
Died 29th August 1956
Aged 75 Years."
Then we took out the photo of the main headstone and we read what was written there.
So we now had the following family:
Parents; Henry Tearle 1846-1905 and Katherine 1847-1942
Minnie Maud 1874-1901 m Arthur W Floyd
Ernest 1881-1956
William 1884-1919
Lucy Ethel 1887-1983
But we needed more….
The envelope from Launceston had a little more valuable information:
The death notice in the local paper said Charles Ernest, son of Henry and Catherine, was the brother of Lucy Tearle of Lefroy.
A Digger notice in the Tasmanian Federation Index said Florence Annie married Josiah Freer in the Methodist Chapel in Launceston in 1911.
And finally, we see that Lucy Ethel was the sister of Minnie Floyd, Fred, Florence, Ernest and William
Our family is better sketched now:
Henry Tearle 1874-1901 m Katherine Birkham 1847-1942
Minnie Maud 1874-1901 m Arthur W Floyd
Frederic Henry 1876
Florence Annie m Josiah Freer
William George 1884-1919
Charles Ernest 1881-1956
Lucy Ethel 1887-1983.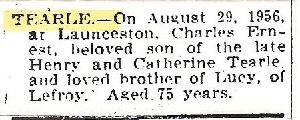 Joan Perkins of South Australia added to the increasing knowledge:
"I discovered a Charles Tearle married an Ellen Charlotte Mary Rae (Ray) in Victoria in 1876. Just out of curiosity I checked for births between 1876 and 1884 this week (on microfiche). I found a William George born 1884 to Henry Tearle and Kate Birkham. How's that? Henry and Kate also had Frederick Henry born 1876, Florence Annie born 1879, Charles Ernest born 1881. So far I do not have a marriage date for Henry and Kate. I also found George Errnest born 1882 to Charles and Ellen (Rose?). Charles and Ellen Rae also had Jessie Anna born 1884. They must also have had a daughter Charlotte as I have the death of a Lottie Tearle aged 25 in 1916 at a place called Fryerstown. I don't know where that is. I have the death of Ellen Tearle aged 63 in Fitzroy North in 1919."
We turned our attention to the story of William George 1884.
As far back as Dec 2005, Rosemary had become interested in the story of William George Tearle, who died in Opotiki, NZ in 1919. She wrote to us:
"A few weeks ago I found an entry in the NZ government archives for a William George Tearle, probate file 1920. I sent off for the information and found that:
"A few weeks ago I found an entry in the NZ government archives for a William George Tearle, probate file 1920. I sent off for the information and found that:
William George Tearle, a bushman, died 9 November 1919 at Opotiki, leaving behind a savings account in the NZ Post Office of 221 pounds, 7 shillings and 10 pence; and a horse and motor car to the value of 53 pounds.
I then sent for a print-out of his death certificate. It reads:
Name: William George Tearle
Occupation: Bush Feller
Age: 35 years.
Cause of death: Intestinal obstruction and post operative shock.
Name & Surname of Father, Maiden Surname of Mother, Occupation of Father: Not Known
Where born: Unknown
How long in NZ: 16 years
The marriage information box is empty. William was buried at Opotiki by a Church of England Minister, Thomas Fisher.
For those who don't know NZ – Opotiki is a lovely spot in the Bay of Plenty on the east coast of the North Island. Bushman/feller – this was a hard task as NZ "bush" is really a rain forest. William must have been a hard working young man."
There was no question in my mind that Rosemary's William George and the William on the Lefroy headstone and the William George found in Joan Perkin's research above were the same man. Then new information came to hand that proved it conclusively.
At this stage Richard met Mia Saunders of Whakatane, NZ, who volunteered to go to Opotiki and look up William's details for us. What she found was a goldmine. She has sent us a copy of the page in the location book of the cemetery and using this she has located the site of William's unmarked grave. She has also sent us the page of the cemetery register that shows William being buried. All of this was deeply moving for us, and a wonderful gesture from her.
Given the date and place of William's burial, we had identified him at last.
I have no further information on Frederick, but it looks as though he has left Tasmania and we may find his story on the mainland. We now know that all of the other Launceston Tearles have died. I met a lady in a cafe in Madrid and she said she was from Tasmania; Launceston, in fact. She knew the Lefroy cemetery and would have a look to see if there were any Tearles in Tasmania. I very much doubt now that she will find any. There may be Freer grandchildren in Tasmania and it would be interesting to know if they are aware of their Tearle connections.
In the meantime, Rosemary was working on another two passions of hers – the Kent Tearles, and the children of Richard 1754 of Stanbridge who came to Sandridge, near St Albans, married Mary Webb and started having children from 1778. One of their sons was Joseph 1788 and he married Mary Cook in St Peter, St Albans (which could have been St Leonard's Church, Sandridge) and died in Sundridge, Kent in 1870. Through her research on Joseph, she was able to provide the link from the main Tree to Henry and Katherine nee Birkham. Here is Joseph's story as told in the Sundridge censuses:
1841 Joseph 1791 (not born in Kent) Mary 50 Ann 30 Joseph 20 Charles 15 Henry 15 Mary 15 in Sundridge Kent
In 1851 only Joseph, Mary and Mary the dau are still together, and still in Sundridge:
1851 = Joseph 1788 (of St Albans) Mary 63 Mary 24 in Kent
And in 1861 poor Joseph is in the workhouse, still in Sundridge, Kent:
1861 = Joseph 1788 (of St Albans) pauper in Sundridge
In Sundridge Church there is the following inscription on a headstone near the tower:
"Mary, wife of Joseph TEARLE died February 17 1855 aged 67 years. The above Joseph Tearle died March 10 1870 aged 82 years."
We followed the story of young Joseph born 1820 and Henry 1826, but Charles 1826 had a different story. Rosemary found this:
"Marriage in Parish Church, Sevenoaks, Kent
1846 10 May, Charles Tearle, of full age, Bachelor, Labourer, Sevenoaks Town, father Joseph Tearle, Gardener
Susan Oliver, of full age, Spinster, no profession, Sevenoaks Town, father James Oliver (Deceased) Labourer
Both signed, Witnesses Joseph Tearle and Mary Ann Wright or Loright. This Joseph is probably Charles' elder brother.
Whatever age he is given in various censuses, Charles was actually born in London on 8 Aug 1821, christened 26 Sept Upper Street Independent Islington London,  the son of  Joseph Tearle and Mary Cook.   Charles and Susan had 2 children and with a third older child went to Australia 11 May 1849 on the "Eliza". An interesting aside: the older child who went to Australia (above) was a Charles, born 4 years before the marriage of Charles and Susan.  I found a birth reg for a Charles Searle Oliver in June 1/4, Marylebone, 1841."
Rosemary sums it up thus:
"Family that went to Australia on "Eliza" on 11 May 1849 is: Charles 27 Ag Lab, Susan 27 wife, Charles 7 years, Henry 2 years, Anna infant (I think Charles 7 years, may have been the Charles Searle Oliver born Marylebone 1841)
Arrive Port Adelaide 23 Aug 1849
Susan dies 30/8/1852 aged 30 (born 1822)
Joseph dies 13/10/1852 aged 5 months (born May 1852)
Henry marries Kate Birkham circa 1873 or 4."
And the rest, as they say, is history. A footnote: Apart from the NZ connection with William George, I have another, much closer, connection with the Tasmanian Tearles; I live 15mins walk from St Leonard's Chruch, Sandridge, where Richard 1754 of Stanbridge and Mary nee Webb married and lived, where Joseph 1788 of St Albans was born and raised, and where this story started.