There was a Tearle in the Battle of Britain; he was one of "the few," in those momentous days from 10 July to 31 October 1940, of whom Sir Winston Churchill said, "Never in the field of human conflict have so many owed so much to so few."
If you take the Circle Line on the London Tube, sooner or later you will find yourself at Westminster Station, opposite Parliament House. Just outside, on the Victoria Embankment, you will see the memorial to the Battle of Britain. The names of everyone who flew in that incredible air battle of World War 2 are listed, and amongst them is Sgt FJ Tearle, about whose personal circumstances I know very little.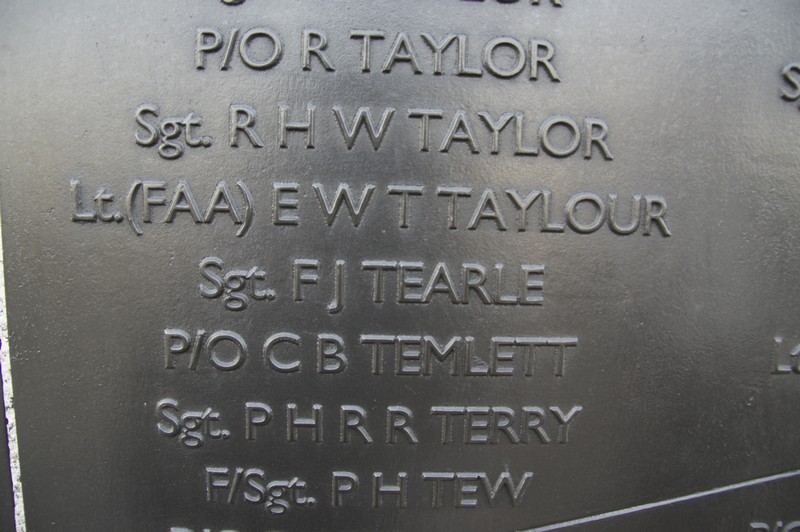 I found a short bio in "Men of the Battle of Britain; A Biographical Dictionary of The Few" by Kenneth G Wynn.
His name was Francis Joseph Tearle and he joined 600 (City of London) Squadron AuxAF before the war as an Aircrafthand (800569). He remustered (re-enlisted) as an Airman u/t Air Gunner and rejoined 600 Squadron at Northolt on 1 July 1940 and served in the Battle of Britain. In 1943 he was commissioned as 123198 and flew with 89 Squadron in the Middle East, teamed up with Pilot Officer R A Miller. They both received the DFC. He was released from the RAF in 1947 as a Flight Lieutenant, worked for Pan American and TWA and took US citizenship in 1954. However he returned to Manchester to open an office for Saudi Arabian Airlines and resettled there, dying in 1990.
600 Squadron was called the City of London Squadron and flew Blenheim Mk 1Fs out of Northolt (near Ruislip) mostly at night because they were too slow to be allowed in the air during the daytime. There is a short history of 600 Squadron here. As a result of huge losses during the Battle for France, Blenheims were withdrawn to Britain and moved into the night fighter roll, hunting bombers. I have written a separate article here, examining the Blenheims and the planes they inspired.

During the Battle of Britain, Francis (Sgt Tearle, as he was known) is shown in an activities diary as being amongst the aircrew on a Blenheim flying with 600 Squadron at Northolt, The document, from The National Archives called AIR27/2059/14 shows the flight taking place from 11.25pm to 12.25am with F/O Bowring training Sgt Tearle and Sgt Moulton in AI Practice Interception, which is the local term for radar. The date is 1/2 (either side of midnight) July 1940, and it is the first day of his new job as an airman. The Battle of Britain will start on 10 July, so Sgt Francis Joseph Tearle is there on day one.
As the short history above tells us, 600 Squadron received the first of their Beaufighters in September 1940; and these were a completely different beast from the Blenheims.
Richard Tearle, leader of the research group into the Tearles, found Francis' DFC citation in the London Gazette of 16 Feb 1943:
Pilot Officer Francis Joseph TEARLE (123198) Royal Air Force Volunteer Reserve, No. 89 Squadron
Pilot Officers Miller and Tearle have flown together, as pilot and observer respectively, on numerous night operations. They have destroyed 4 enemy aircraft and inflicted damage on 3 enemy E-boats. They have both displayed courage and skill of high order.
Pilot Officer Miller is Reginald Arthur Miller (123201) also of the RAF VR No 89 Squadron. This citation can be downloaded here.
I looked up 89 Squadron and I found this short note
"On 25 September 1941, 89 Squadron reformed at Colerne as a night-fighter unit, flying its Beaufighters out to the Middle East in November and beginning night patrols in December. A detachment was sent to Malta in June 1942, which also flew intruder missions over Sicily. Detachments were based along the North African coast for night defence until October 1943, when the Squadron moved to Ceylon."

The notes on 89 Squadron in Wikipedia are very similar to those above, and it is confirmed that the Bristol Beaufighter 1F and V1F were used 1941-1945, so Tearle and Miller had to have been flying them. From the dates above, it looks as though Tearle and Miller gained their DFCs over the North African coast.
I found his death registration in Manchester:
Name: Francis Joseph Tearle
Birth Date: 16 Oct 1918
Death Registration Month/Year: Oct 1990
Age at death (estimated): 72 
Registration district: Trafford 
Inferred County: Cheshire 
Volume: 39, Page: 1924
This is consistent with his living in Manchester and it gives us a birth date. In 1978 his address in the Manchester BT phone book was 4 Plant Close, Sale. Sue Albrecht of New Zealand showed us an early post from Barbara Tearle:
Francis J Tearle registered in Dec quarter 1918 in Cardiff, mother's maiden name being Burns.
This means he is a son of Patrick Matthew Tearle and Catherine nee Burns. And that is a whole new story.

On 1 July 2016, Chris Eley of the 255 Squadron Association contacted me.
"In the course of answering an enquiry from the relatives of a 255 Squadron casualty with the surname MILLER, I've happened upon an obscure reference in the wartime records of the RAF in Malta naming a Beaufighter crew member "Sgt. TEARLE". No service number or initials. The original source reference is AIR28/807, the Operations Record Book of airfield RAF Ta'Kali, entry dated the night of 08/09 March 1942."
0010 hrs  One Beaufighter takes off from Luqa (Sgt Miller and Sgt Tearle) and makes contact with an incoming bandit.  The Beaufighter fires a two second burst and the starboard engine of the enemy aircraft catches fire – they observe it drop into the water.  Another bandit – possibly a Heinkel 111 – is later attacked by machine gun but the cannons stopped firing after one second for some reason and the Beaufighter lands at Ta Qali at 0230 hrs.
His question: "Are you able to state whether or not the Sgt.Tearle mentioned in the Malta Diary for 1942 is the same Sgt. Tearle killed 27 April 1944 and buried at Watford?"
I noted that this Sgt Tearle was not likely to be the Sgt Tearle in Malta, simply because he was buried in Watford. However, I did know of a Sgt Tearle (with a man called Sgt Miller) who was in Malta, and I told him the story above, of Francis Joseph Tearle.
Chris immediately agreed:
"Reginald Frank Tearle's death in 1944 was registered in the Chichester registration district. There was heavy enemy bombing of the south coast that day. Gosport airfield was hit, but other casualties there appear in GRO records with death registrations in the Gosport district." So we turned to the question of whether or not Sgt Tearle of Malta was indeed FJ Tearle, above.
"I don't see Francis Joseph Tearle  (known paired as aircrew with Reginald Arthur – otherwise Alfred – Miller) as a possible pointer towards "my" Miller, for the very certain reason that both FJT and 123201 Reginald A. Miller, eventually DFC and Bar, were alive in Feb 43, whereas the Miller I'm looking for definitely wasn't. But I cannot rule out Francis Joseph Tearle being the Tearle in Malta. In March 1942, FJT was still an NCO, so the rank given in the Malta Diary potentially fits.. This looks to me to be a very much better bet in terms of identifying the aircrew who scored in March 1942, but again – if substantiated – it rules out "my" Miller. Having discovered this, I suggest a search for the Miller/Tearle trail of squadron postings as my next move. With DFCs involved, that should be relatively easy."
Chris warmed to the task – was another Malta problem about to be solved? He returned:
"Francis Joseph Tearle (later awarded the DFC) now confirmed. A query lodged on the RAF Commands bulletin board reveals that Reginald A. "Dusty" Miller (Pilot) and Francis Joseph Tearle (Radio Observer) crewed a Beaufighter in Malta whilst posted to 1435 NFF. There's also a hint that the operational records of 1435 NFF may be hidden away in files relating to No.89 Squadron, masquerading as 'C' Flight of 89, but that's less certain.
How did they down German planes? Probably the usual Beaufighter way. COL (Chain Overseas Low) radar was keeping a 24/24 standing watch. When a 'bogey' (a suspicious item on the radar screen – pick your nose while you think about it!) was detected, a QRA (Quick Reaction Alert) scramble was called by GCI (Ground Control Interception, interpreting the COL radar plot). GCI continued to give guidance until the AI set on the Beaufighter (probably, in early 1942, a Mk.IV AI set on a frequency of 192 MHz) picked up the target. Everybody then checked for both IFF (Identification Friend or Foe) signals and Resin Lights. If neither, the Beau closed right in to attempt visual confirmation of ID. Unless positively found to be friendly, the assumption from then on was 'hostile'. The Beau then backed off a bit and squirted both cannon and machine guns. Two seconds later – literally –  the Hun was heading for the drink.
Night-time air defence is what it was originally designed to do. Before ever it acquired the name Beaufighter it was described by the Air Ministry as "the cannon fighter", being the first British fighter to be equipped with cannon as well as machine guns. The suffix F (strictly, lower case f) identifies fighter versions. 1c was the original Coastal version, later refined to become the TF-X (Torpedo Fighter Mk.Ten), the variant that eventually dominated production once the Mosquito took over the primary night fighter role. For the full story see Bingham, V., Bristol Beaufighter, Shrewsbury:Airlife, 1994. ISBN 1-85310-122-2.
In early 1942 both 89 Squadron and 1435 Flight flew Mk.1f. (Evidence: 'Aces High' and AIR27/129.)"
He was increasingly certain we had the right man:
"Latest incoming hint is to read Dusty Miller's DFC and Bar entry in "Aces High" (book : Shores, C, and Williams, C, Aces High,  London : Grub Street, 1994, pp.444-5). There's a copy on the open shelves at The National Archives. It can't be borrowed, but no Readers Ticket is needed to get at it."
He returned with yet another gem:
"The aircraft in your photos seems to be this one, a Mk.XIc: http://www.pacificwrecks.com/aircraft/beaufighter/A19-144.html
There is more of its history here: http://www.adf-serials.com.au/2a19.htm
Beware that the squadron numbers quoted are RAAF not RAF."
My sincere thanks to Chris Eley for his unstinting assistance with this article.