I knew my cousin, Alec Tearle, although only slightly. He rang me once in New Zealand, and I remarked then on his beautiful, cathedral-filling, gravelly voice, with perfect diction. He and his wife Beryl took us to a wedding in Langtoft, Lincolnshire, where they were in the church choir for the ceremony. He modestly called himself a "wedding singer," and he had an effortless baritone.
He told me one story of his military life. He had just been promoted to Base Commander of an aerodrome where he was in charge of the Queen's Flight. His first morning in the control tower was cold and foggy, but as the fog lifted and the tower began to count down to the first of many flights that morning, he saw a small woman in a tweed coat walking a dog on the macadam.
"Who the hell is that!" he stormed. "Get her off the runway!"
"Excuse me, Sir."
"What!"
"That's the boss."
In 1946, immediately after WW2, RAF Benson hosted Kings Flight; it became the Queens Flight in 1952. That Alec was in charge of Queens Flight means this incident occurred at RAF Benson. Queens Flight was disbanded in 1995 to become part of No.32 Squadron at RAF Northolt.
Alec's MBE was notified in a Supplement to The London Gazette of 3rd June 1972, page 6261.

Here is his MBE alongside his RAF Long Service Military Medal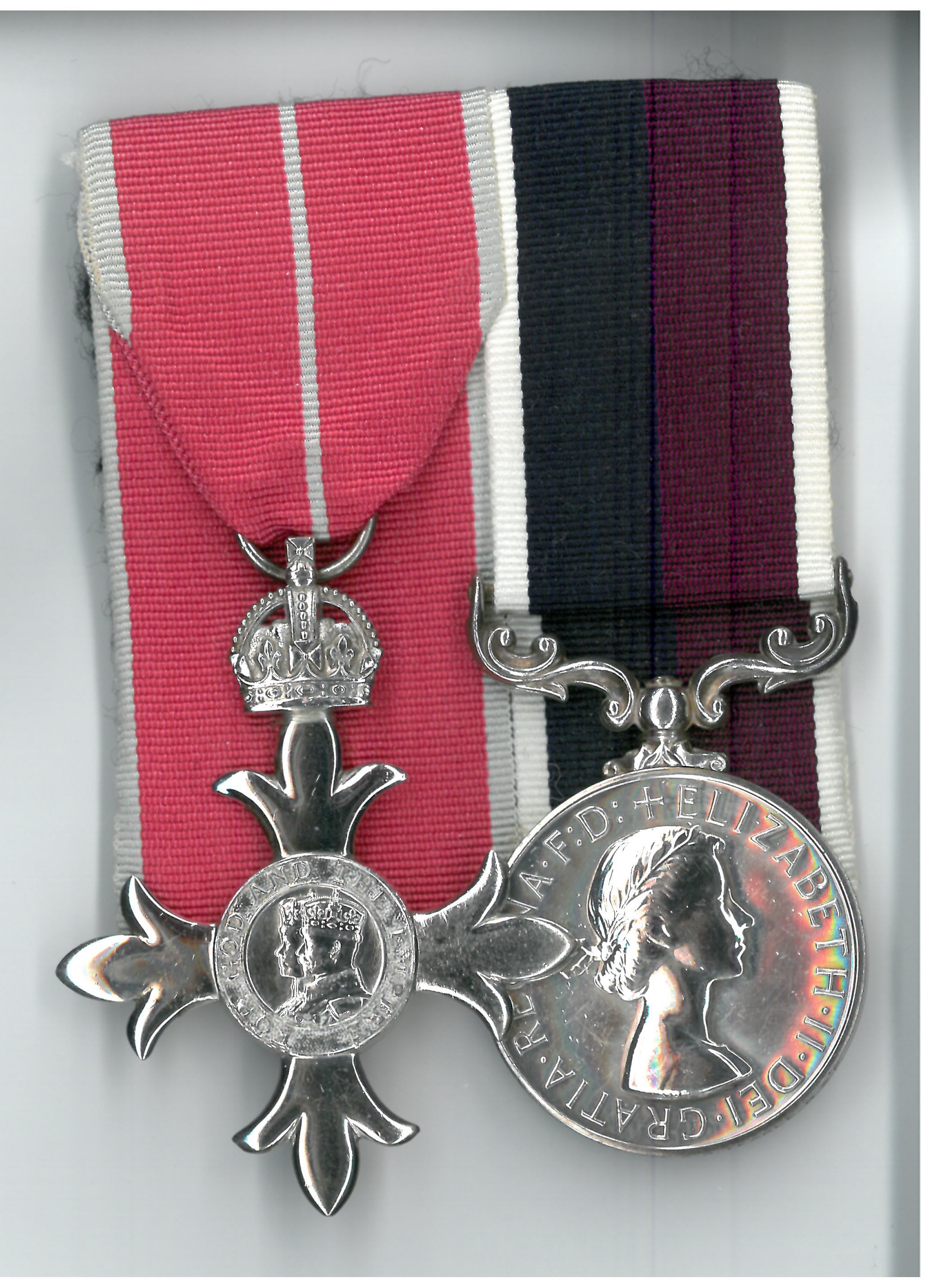 There are other small but valuable snippets in the London Gazette. The earliest would appear to be his promotion on 29 June 1971, page 6948: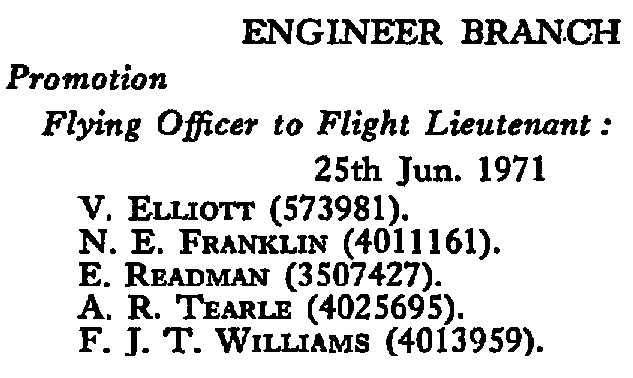 In the Gazette of 18 July 1978, p8265 was Alec's promotion to Squadron Leader. As you can see, he already had his MBE:
Flight Lieutenant to Squadron Leader:
K. F. DAVIES (4022524).
C. J. ORME (4335409).
A. R. TEARLE, M.B.E. (4025695).
J. ROLLS (583369).
And finally, in the Gazette of 28 August 1984, page 11701, there was this announcement:
Retirement
Air Commodore W, J. J. NORTHMOKE, C.B.E., C.Eng.,
M.I.E.R.E., M.R.Ae.S., 10th Jul. 1984.
Wing Commanders :
BULLOCK, Bi.Sc. (504033H), llth Jul. 1984.
H. HUGHES, C.Eng., M.R.Ae.S., M.I.W.M.,
M.B.IM. (3035291J), 20th Jui. 1984.
Squadron Leader A. R. TEARLE, M.B.E. (4025695B) (at
own request), 14th Jul. 1984.
Flight Lieutenant W. D. JAMES (4116333P) (at own
request), 12th Jun. 1984.
At one stage, he was the president of the Langtoft and Deepings branch of the Royal British Legion.
His official obituary was published in The Telegraph of 12 January 2016:
TEARLE Sqn.Ldr Alec M.B.E. (ret'd) passed away peacefully at Peterborough City Hospital on 22nd December 2015, aged 86 years. Dearly beloved husband of Beryl, treasured father of Stephanie, Simon and Timothy and beloved grandfather of Gemma, Andrew, Elizabeth and James. He will be sadly missed by all his devoted family and friends. The funeral service will take place on Tuesday 12th January 2016 at 12.00 (noon) at Peterborough Crematorium, Marholm.
He is remembered with great affection by his family. His son, Timothy, sent me this fine obituary:
In recent years Alec and Beryl lived in Langtoft, Lincolnshire, a small village just outside of the picturesque market town of Market Deeping strangely enough just inside Cambridgeshire.
They enjoyed a significant number of years in happy retirement, being active in the local Church, the local village hall and events therein. Their garden, their pride and joy, an oasis of colour and scent in the Flat Lands of the Fens.
It is with sadness that we, Stephanie, Simon, Timothy and our wonderful mother Beryl, lost Alec to a brief but troubling illness in December 2015. He passed away peacefully at Peterborough General Hospital 22nd Dec 2015.
Father was an incredible man of quiet nature, but huge achievements. His engineering skills embraced the introduction of modern technology to the Royal Air Force, seeing the transition from the most advanced Piston Engine Propulsion, to the fledgling, and latterly the high tech world of supersonic jet propulsion. Being a unique man, his craft of Air-Frame and Engines meant that he was frequently called upon to pioneer procedures on the new fighters, bombers and specialist aircraft entering service with the Royal Air Force throughout the 1950's and well into the 80's.
His grasp of engineering led him to refurbishing and re-commissioning a gas production plant in Bahrain. This enabled the Armed Services to have valuable assets in terms of liquid gasses at their disposal in an area where tensions were ever fraught, and the constant supply of liquid gasses essential to the operational capabilities of both maritime and airborne services in the Middle East during the 1970's.
This successful project, together with work on the Island's only power plant, (4 Rolls Royce Aero engines converted for running on gas) to secure a constant and uninterrupted power supply to the Island, were recognised with the award of his MBE. There are many other major achievements that we children know too little about to list in any detail!
He was born to Harry and Millicent, 15th June 1929 in Wing, Bucks, the eldest of their children, and brother to Thelma (Sheppard), Roy (who died very young from TB), Denis and "little" Rachel.
On the 20th Jan 1951, he was married to Beryl Jean Proctor at St. Barnabas Church, Leighton Buzzard, Bedfordshire.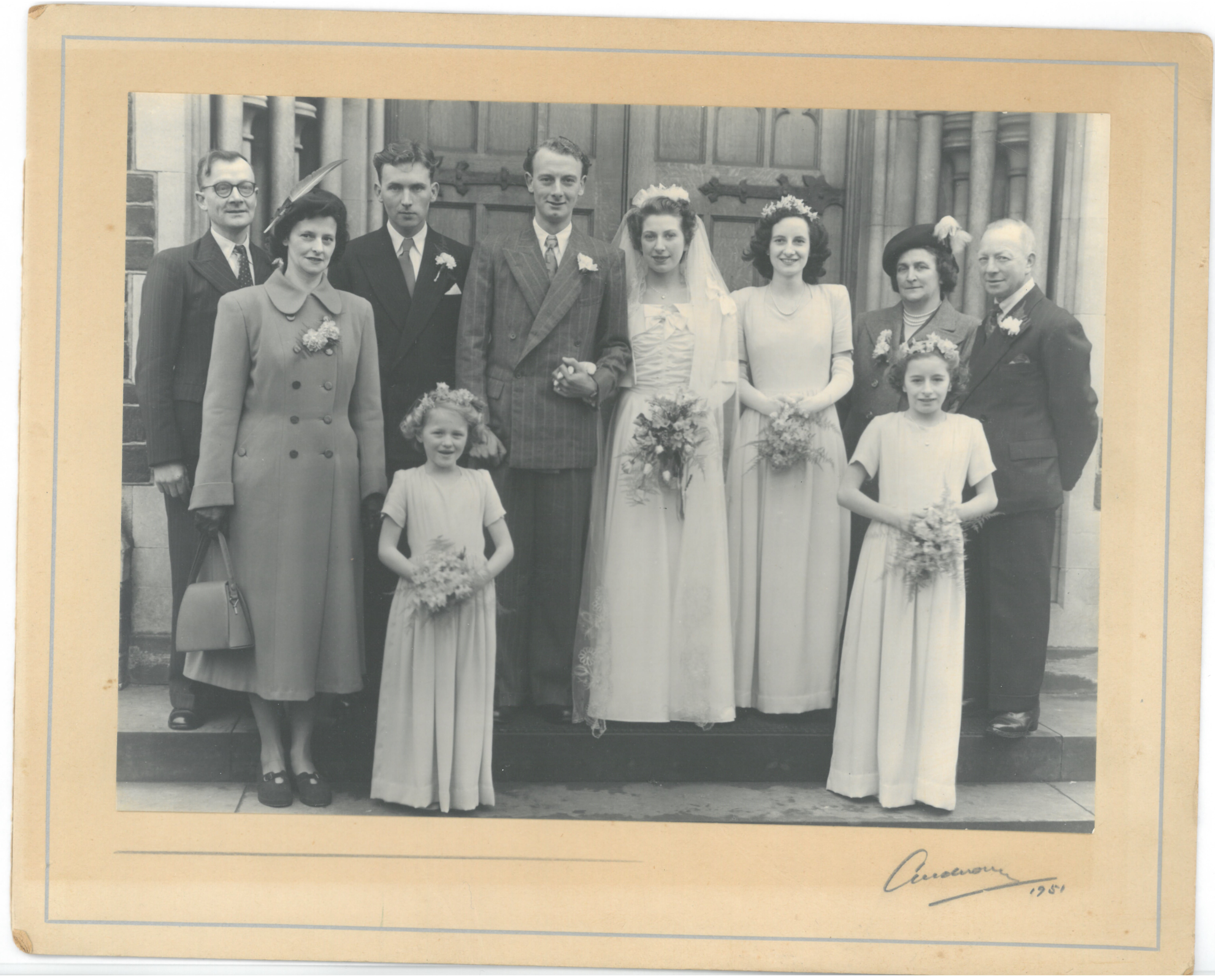 Their love and strength together enabled them to celebrate 64 years, and very nearly 65 years of marriage before his passing.
During their life together they lived a happy and varied life, encompassing over-seas postings, periods of enforced separation, and very many moves at the behest of the Air Force.
We children grew up in a happy, loving and, in a great many ways, privileged household. We enjoyed the trappings of Father's continued successes most ably assisted by Mothers constant loving, support, and drive, to enable him to excel at every task he undertook.
Beryl was lovingly cared for by Alec up to the final days before he went into hospital. Beryl in later years developed Vascular Dementia and the demands this uninvited condition placed upon Alec were considerable. He did, however, deal with it as with everything in his life, stoically and with love, tenderness, compassion and considerable good humour. Proving how even at this most delicate and demanding of tasks, he excelled.
Beryl is now living close to Stephanie and Simon in Oxfordshire, close to RAF Benson where Alec was stationed as Ground Engineering Officer in the late 1970's.
We are all able to visit regularly and at time of writing, I am delighted to report that she is very well, comfortable and happy.
The pioneer years:
The photographs below are privately owned, and supplied by Tim Tearle, Alec's son. If you compare Alec in his wedding photo above, with the photos of him below, then the first four photos were taken in the 1950s, but the location is unknown.
Tim says that Alec was at RAF Benson in the late 1970s, and that is possibly the setting for the story of the "lady on the runway" because he would have had sufficient seniority to be in charge of Queens Flight.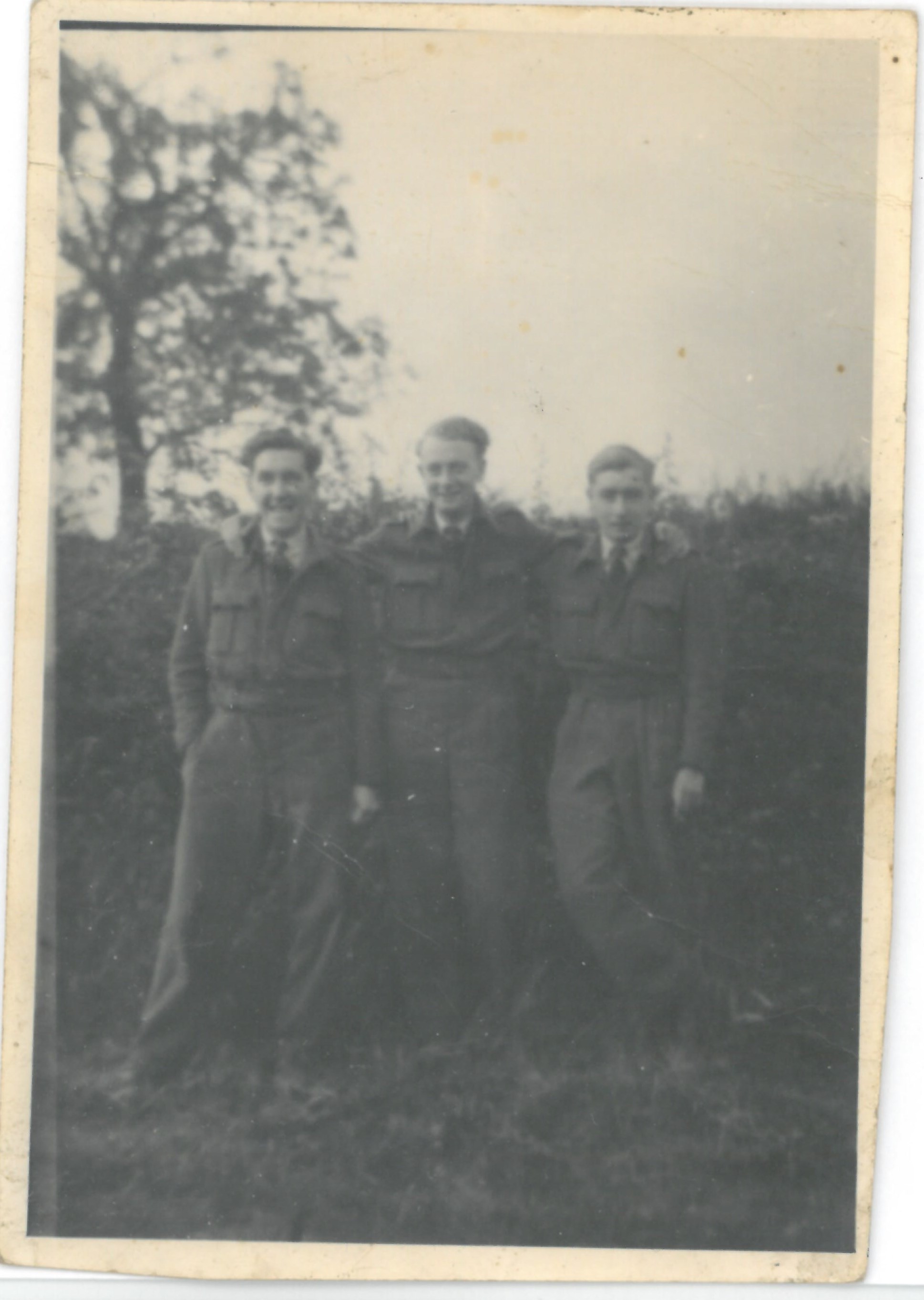 Alec Tearle, centre.
Acknowledgements:
Thanks to Tim Tearle for sending me the resources above with the request that I write an article about his father. Without Tim's help, there would have been no story.
Thanks also to Barbara Tearle of Oxford who alerted me to the London Gazette postings, above.