I have uncovered the story of Louis Tearle. I have previously researched Jane Tearle, nee Draper, and now it was the turn of Louis. I started with this headstone: Louis, died 1935 aged 45, so born 1890, had a wife Mary Jane and a son Aubrey, born 1910.
1901 = William 1852 Edles Ann 49 Louis 11 in EB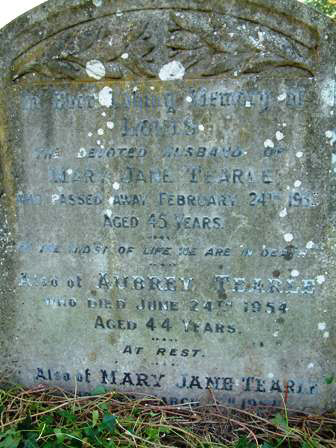 I started with the 1901 census and there Louis was, 11 years old, born in Eaton Bray, (EB) living next door to the Baptist Chapel (built 1835) in Edlesborough with father William 1853 Edles and his wife Ann 1852 Edles. William was a "cattleman on a farm" and the enumerator's overseer added William to the generic group Ag Cattle.
In the 1891 census for Eaton Bray, there he was, one year old, son of William 1853 Edles and Ann 1852 Edles as well as an older brother, Albert, 17yrs, so it would seem that William and Ann had been in Eaton Bray for at least 17 years. Both father and son were Agricultural Labourers while Ann supplemented the family income as a Straw Plaiter.
1891 = William 1853 Edles Ann 39 Albert 17 Louis 1 in Eaton Bray
I looked up the 1881 census for Eaton Bray and the family was there; William 1853 Edlesborough, Ann 1852 Edles, Albert 7, so 10 years younger, but there was a Louisa, aged 2. Well. This probably means that Louisa had died by 1891, and in trying to keep the name alive, William and Ann named their new boy Louis. I paused for thought and asked one of my colleagues at work. He didn't think it was at all odd – names are often recycled, he said.
1881 = William 1852 Edles Ann 29 Albert 7 Louisa 2 in EB
Louis' mother was Ann nee Bird and William his father was the first son of George 1831 of Eaton Bray and Hannah Maria nee Janes, who were married 13 Nov 1852 in Edlesborough. George was the son of Jabez 1792 of Northall and Mary nee Green. Jabez was the son of William 1749 of Stanbridge and Mary nee Prentice. Thus, Louis is of the branch William 1749.
You will notice that Jeffery 1891, of the Dunstable WW1 memorial, and Louis share the same grandparents; Louis and Jeffery are first cousins.