We were delighted to welcome the grand-daughter of Henry James 1880 and Louisa nee Lees, Anne Tearle. Many of us have spent a great deal of time on the story of this family, spanning as it does two continents and two World Wars. It was a pleasure to meet her and to help show her where the pieces of the story are laid out in our documentation. By Ewart Tearle, photos by Elaine Tearle.
Another outstanding success, TearleMeet3 lived up to all my expectations and wishes for the day. It was a success primarily or the hard work done by Barbara and Elaine on the door, and from Pat and John who tirelessly offered refreshments for all the visitors. We can also thank Elaine for her most beautiful cookies. Richard was on top form, too, helping people to navigate their way around the various branches spread over the floor, and renewing old friendships. Dinner at the 5 Bells was also a lovely occasion, of which more later, but we can assure everyone that the food was delicious, hot and on time. Alan Gibbs and I laid out the branches of the Tree in various aisles and draped them across pews when the aisles became full. The longest branch is now that of John 1741 and it is 66 A4 pages wide and three pages deep. We also set up the projector we had borrowed from the vicarage.
People came from great distances, and that is always a humbling thought; we set up an event such as this, but it is the interest of our wide-spread family, and their willingness to make the journey to see us, that makes all the work worthwhile. It is also not possible to make the Tree grow, to be accurate and comprehensive as we all want it to be, without the tireless and ceaseless work of Richard, Barbara, Pat Field and Rosemary. It is a joy and a privilege to work with you.
Goff Tearle of Loughborough University has been corresponding with us for several years and he took great interest in the John 1741 branch to see where his family lay. Alan Gibbs joined him because he, too is on that branch; one of the Wing Tearles. We welcomed back Enid Horton and her daughter Lorinda from Rugby, who have attended all the Meets and are famous for their work for us on the Banns Register in the very first Meet. And one of our regular contributors to the forum, Jo Smith and her mother Doreen nee Gurney (a true Stanbridge girl, with an ancient Stanbridge name) gave us a few tips about the memorials around the church and how we could add to the list of Tearle memorials in our pamphlet.
One of the highlights was welcoming the twin sisters of Michael and Rosemary: Maureen Rigby and Janette Harrison. They had travelled some distance to get here. I met them for the first time, and it was a happy occasion finally to meet the English family of the two people in New Zealand whom I have known for so long. Rosemary has been a huge help in many of our safaris into the stories of the families who populate the Tree. She has been an inspiration and a driving force in the group. It was very nice to be able to meet the people Michael grew up with.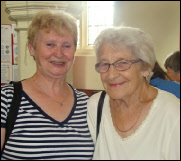 We were delighted to welcome the grand-daughter of Henry James 1880 and Louisa nee Lees, Anne Tearle. Many of us have spent a great deal of time on the story of this family, spanning as it does two continents and two World Wars. It was a pleasure to meet her and to help show her where the pieces of the story are laid out in our documentation.
Richard Nichols originally came to find some information on Tearle men who had been in the marines, but when he met Anne, he discovered that he, too was related to Henry and Louisa, and therefore to Anne. Here they are at lunch in the 5 Bells.
The main event was the visit from Catherine Brunton-Green, her daughter Nicola, and her grand-daughters (lucky girl) Abby and Kelci. They brought a wonderful display of photos and letters all about the Soulbury families and as the niece of Norman Tearle of Soulbury, Catherine had a special tribute for the terrible sacrifice he was forced to make in WW2, when he lost his life in the Little Ships armada off the Dunkirk beaches.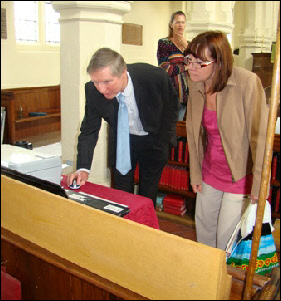 While I was finding her on the Tree, she told me she was an aunt of Oliver Mark Tearle, the author, of Loughborough University. She was fascinated that she was a Soulbury Tearle, and above you can see her talking with Nicola and Abby and examining the exhibition. They enjoyed their lunch at the 5 Bells – and they needed to. Mike had to rush off to Spain to collect F1 cars. He is a member of the Red Bull team. Small world. I printed a 10-page family chart for Fay and she took it to investigate her newly-found family.
We also had a visit from the family of Jennie Pugh; John and Grace Tearle and John's sister Sheila Leng. We all mourned the loss of one of the sweetest ladies anyone hope to meet. Jennie, John and Sheila have attended all the Meets so far, and it was sad to know we would never see Jennie again.
We were very fortunate to welcome again the Ashleys – David and Barbara, Ingrid Taylor and her family and Pete Minns and his family. The Ashleys have attended every Meet so far and it is always so nice to see them. They are close to Rosemary and Michael's twig on their branch of the Tree.
When we retired to the 5 Bells for lunch, Barbara introduced a short section of the event, which was to recognise the members of the group who had died since the previous Meet. As a family history group it is right and proper that we should pause to remember those who had contributed much but who could no longer help us in person. She spoke movingly and passionately about John L Tearle, who was the inspiration for the Tearle group, and who has supplied the basic text we all work from when we explore the origins of the Tearles in Stanbridge: "Tearle, a Bedfordshire Surname." She noted also the passing of Mavis Gertz of Australia and the contribution she has made to our knowledge of the Tearles in Tasmania and Victoria. Elaine then spoke about her life with Jennie Pugh and the lovely lady to whom we had to say goodbye since the last Meet.  Richard thanked everyone for their attendance and wished them all a safe return home.
It's always sad when the event is over because it is 2 years in the making and six months in the planning and we renew our friendships at the same time as meeting new members of our family. The effort some people put in to attend is quite remarkable and we thank you very much.
Three memorable pictures that Norman Rigby sent me sum up the day beautifully…
The John 1741 branch just goes on and on.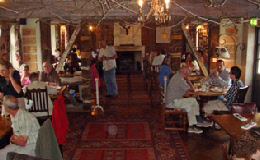 Interior of the 5 Bells at lunch
---
Messages to the Meet
Photos courtesy Ray Reese
Because it was such an important occasion, we received many messages of support and good will from all over the world. Here is a selection:
On a crisp Brisbane day of barely 30C, Richard met with the Australian Tearles in a delightful and informal function. Ray Reese, whom we all remember from the previous Meet, sent me these pictures of the day.
His message:
Denice and I have great memories of the last meet and will be thinking of you as you meet this time. We would hope that everyone has an enjoyable time as we did last time.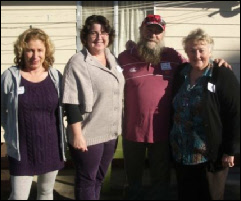 Patsy, Maggie, Kevin and Denice
---
Hi Richard and Ewart,
It was a great pleasure to meet you today Richard, as well as Sam and her lovely family! It was also wonderful for me to meet my Mum's Tearle cousins for the first time too! Douglas and Deborah put up a delicious spread for us all which was very much appreciated on this chilly day in Brisbane!
As you mentioned Richard, we also had the pleasure of meeting Bev Floyd. Bev's Tearle family is somewhat of a mystery to me (as it is to her).
Once again Richard, it was fantastic to meet you today and I hope that the rest of your stay is a great one!
Teresa
---
Richard:
Teresa – thank you so much for those kind words: in return, you have no idea what a thrill it was for me to meet all of you – even more so now as I did not realise that you had not met your cousins! Bev did indeed do us all proud – but how could you call it chilly!!!!
I knew that we had done quite a bit on Minnie and Minnie Maud and I am absolutely delighted that it has been of great use to someone (Bev) and I do hope we can find out a little more for her. Ewart – I have some details from Bev and will show them to you on the 17th.
---
Brian:
Sadly I am unable to attend the meet this year (attending a 70th birthday party with the in-laws!). Just wanted to wish everyone a great Tearle day.
---
Sam:
I'm very sorry that I can't make Saturday as I'm signing at a wedding in Sussex. I would love to have come and hope it goes really well.
---
Hi All
Sorry we can't make it for the big meet … all the best and maybe next time. We hope to hear some tales …
From the Moses Tearle and Amelia Cooper Cooper branch in Waitakere, west of Auckland, New Zealand.
---
Here are the pictures of the horseshoe I was telling you about. As I said it was made for Ruth's 7th birthday back in 1890 if my maths is correct.
The ruler in the picture is placed with both metric and inch measures on it so hope you realise just how small it is.
Have been in e-mail contact with Jewelly.
Enjoy the gathering of the clans
As you rightly say it is tiny but exact in every detail, it must have taken a fair level of skill to produce.
Will raise a glass next Saturday, what time is the get together? I might be in bed bearing in mind the time difference (we are seven hours ahead at the moment), but will be thinking of you all.
Love Margaret Tearle nee Palmer, Doug & Buttons (the dog.)
Perth, Australia
---
Thanks we have received
Dear All,
Just to echo the thanks to Ewart, Elaine, Barbara, Richard for organising another successful day –  it was friendly, interesting, stimulating, respectful and emotional … I had a sore throat by evening I had spoken so much about the Soulbury/Luton Tearles.
Thank you too for the opportunity for me to be there to remember and honour Norman – who gave his life so bravely at a tender age.  I will be in touch
P.S. Elaine's shortbread is just SO delicious!!
Catherine Brunton-Green
---
Richard Nichols:
Hi Ewart,
Thanks again for the great day on Saturday, it was one of those singular moments that don't come often enough. Not only did I meet up with some of my distant relatives and gain an insight into where the Tearle family originated but also by chance had dinner with whom I found out was a much closer relation, Anne Tearle, coming from James (out of William – Stanbridge 1749).
Anne and my mother share the same Gt Grandfather!
As it was only on the spur of the moment that she decided to attend I feel particularly lucky!
---
Goff:
Just wanted to add my congratulations to Elaine and Ewart for organising the 2010 TearleMeet.
It was amazing to see the rows of paper laid out along the church depicting our heritage – a mark to the
success of the research that has been carried out.
I was so pleased to be able to be there this year and meet so many members of the very extended family.
---
Maureen Rigby and Janette Harrison
Dear Ewart and Elaine, just a note to say how much we enjoyed, attending the "Tearlemeet". You must put so much hard work into it all; aren't we lucky to have two people working so tirelessly to get a family together. We really did enjoy it, and were amazed at the amount of research you must have done to have produced so much information! Norman will be sending you some of the photos' he took which he's quite pleased with; they really do seem to capture the atmosphere. Thank you both very much again from the four of us; we look forward to seeing you again in two years time. Very best wishes from us all, Maureen, Norman,Jan., and Roy.
---
Rosemary and Michael
Firstly THANKS to you both for all that you have (yet again!) done towards the Meet. It just wouldn't happen without you two. Hopefully the people who come and those like us who stay at home because we aren't near-by make it all worthwhile.
---
Barbara
A big thank you to Ewart and Elaine for organising today's Tearlemeet:  it was a great success.  Pity about the weather – a bit blowy and not as warm as it could have been, but what does that matter when you are enjoying yourself?  And thanks to Pat and John whose tea and coffee was welcome
Since the last meet the trees have grown so big that two of them could not be fully unrolled along the length of the nave – that shows how much work everyone has put into reconstructing our families since the last meet and how much Ewart has done in recording the research.
For those who weren't able to be there, we also remembered three special people who have died since the last meet:
John L whose book started many of us off on our Tearle history
Mavis Gerdtz from Melbourne who put in so much work on the Australian Tearles
Jennie Pugh who attended the last two meets and who was a living link with the Wing Tearles from the late 19C.
Thank you Ewart & Elaine
---
Richard
Thank you, Barbara: I can only echo that except to add that you have done more than 'your bit' in making both the group and the Meets so successful..
I would also like to add my thanks to all who made it and gave us even more information, Catherine for her superb display of the Soulbury Tearles and new member Anne who only joined 2 days ago.
A great success again and we can start looking forward to 2012
---