Here is his service record from the CWGC:
Name: TEARLE Initials: J
Nationality: United Kingdom
Rank: Private
Regiment/Service: Welsh Regiment
Secondary Regiment: Royal Defence Corps
Secondary Unit Text: transf. to (3711)
Age: 36
Date of Death: 16/04/1918
Service No: 20724
Additional information: Husband of Alice Maria Tearle.
Casualty Type: Commonwealth War Dead
Grave/Memorial Reference: A2. 12. 16.
Cemetery: WHITCHURCH (ST. MARY) CHURCHYARD, GLAMORGANSHIRE
I had wondered for a very long time who this was, but Lost Generation told me he was James and I had a James 1862 of Preston married to an Alice M… Was the CWGC wrong about his age? Ancestry gave me the medical records for a soldier whose military service began in 1880 and this lead me to be increasingly certain we had this chap already on the Tree. His parents were Thomas 1836 of Leighton Buzzard and Emma nee Ayres who moved up to Preston around the time Thomas' brother Joseph 1838 of Leighton Buzzard (LB) did, closely followed by their father, Joseph 1803 Tebworth. Young James had brothers George 1868 Preston, and Robert 1871 Preston, both of whom died in 1873. Their father Thomas died in 1871, close to the birth of his youngest son, and their mother Emma died in 1879. In the space of eight years, James had become an orphan, with no family at all that he knew about. At 18yrs he joined the Loyal North Lancashire Regt, renewing several times. I can't find any record of his serving anywhere overseas except for one year and 196 days on Gibraltar, in 1884. At this time he gave his next of kin as Sarah and Robert Gaunt of Preston. I have looked for a Sarah Tearle in Preston, but I can't find one, so it is likely they were his foster parents. Around 1891 (I can't find the marriage certificate) James married Alice Maria Edwards of Sipton, Staffs. In the 1891 census of Burnley, Lancs, they were newly married and living in 28 Aqueduct St, James describing himself as a Herbalist's Assistant. Between 1892 and 1899 they registered four children in Colne, Lancs; Emmeline 1892, Alice 1894, Reginald 1896 and Minnie Louisa 1898. In the 1901 Colne census we can see James, Alice and their children living in 70 Market St, which is also the business address. James is a Herbalist (Shopkeeper) and the census enumerator categorises him as a SubMed.
WW1 started in June 1914 and James signed his attestation form, for 1 years service, in Cardiff on 16 Nov 1914. He said he was aged 45, but you can see that CWGC has this transfer at age 36. He transferred from the Loyal North Lancashire Regt to No 4 Supernumerary Co, 5th Battn Welch Regt, presumably because he was still a reservist, but now living in Cardiff. I have attached the two documents crucial to establishing who he was and to show his original attestation to the army in 1880 and again in Cardiff in 1914.
You can see his Loyal North Lancashire number (20724) in the lower document. It's difficult to read because it's scribbled out, but subsequent documents clarify it.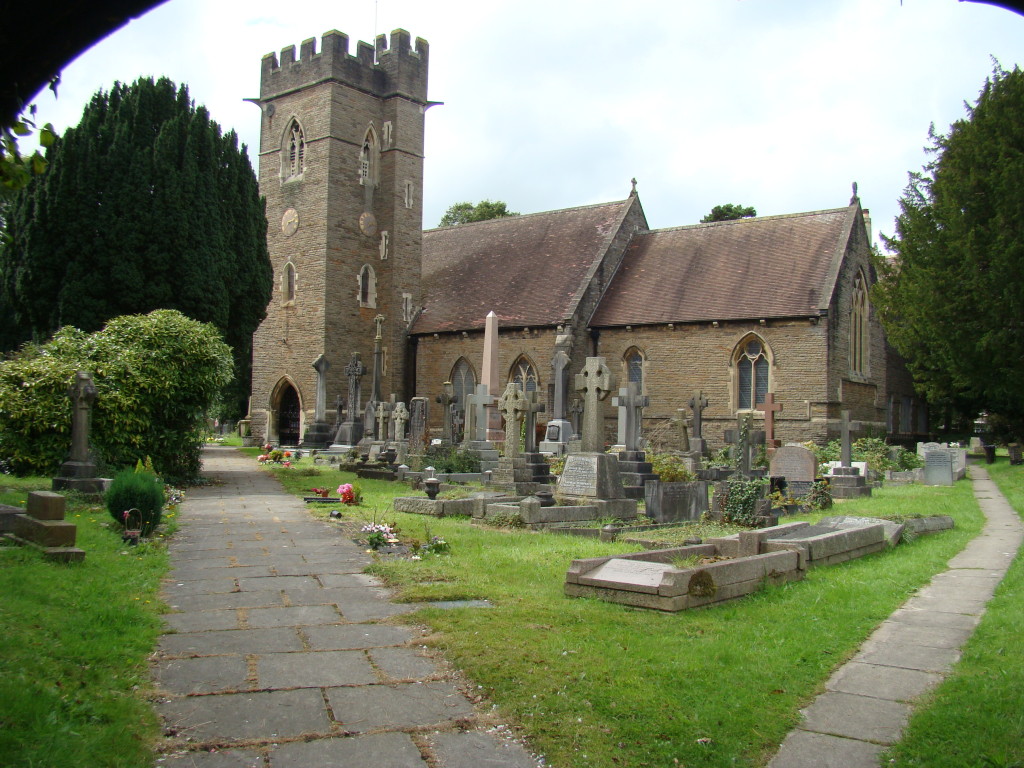 Above: St Mary, Whitchurch. On 19 Apr 1916, James transferred to the 24th Protection Coy of the Royal Defence Corps. He was living at 3 Hazelhurst Rd, Llandaff North, West Cardiff.He was described as a Shopkeeper, 5ft 7in tall, blue eyes, fair hair. In a medical report dated 22 Mar 1917, he was said to have been on leave in Preston from Fairweather Hospital, Cardiff when he contracted diarrhoea. He was operated on in Worley Hospital on 26 Feb 1916. He was certified "No longer physically fit for War Service" on 16 Apr 1917, and died on the very same day one year later. He was just 56 years old. Here is a copy of the record the army used to ensure he was correctly awarded the Silver War Badge.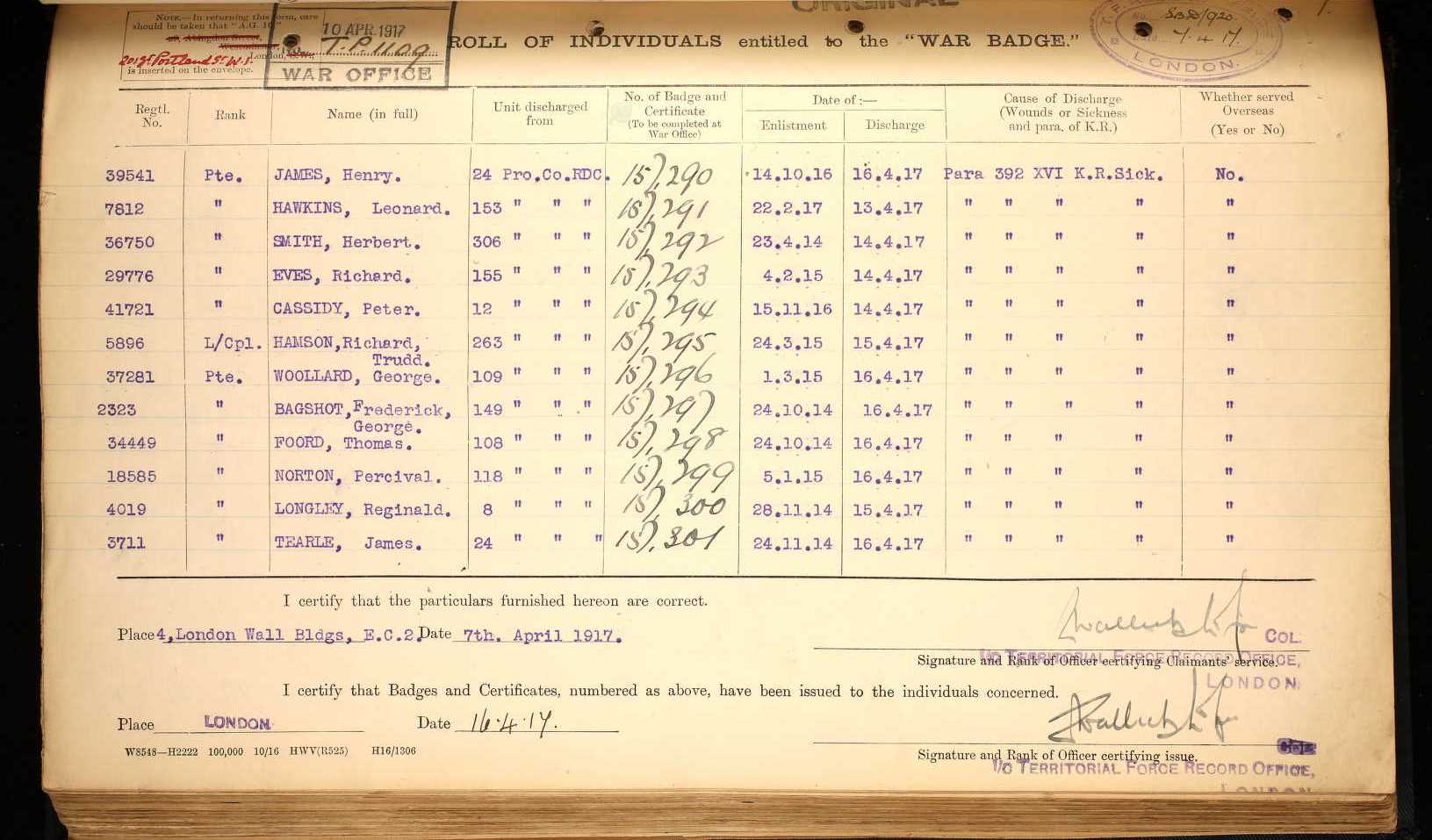 On 17 Apr 1918, his widow was awarded a pension of 15/- a week.
The fact that James was in Preston when he fell ill means to me that he still kept in touch with his family. The trip to Preston from Cardiff is a major undertaking and indicates the depth of the relationship he still enjoyed with his far-off family.
I wonder sometimes if James knew Charles 1894 Preston, above? It's possible that in being an orphan he didn't, but they are closely related, and in the same Lancashire regiment. James did receive a medal, but the record is unclear as to which one.
I have no clue as to why James should move all the way from Colne, Lancs to Cardiff, but his wife's name might be Welsh and perhaps she felt the need to go to her family.
As with all the Preston Tearles, he is on the branch Joseph 1737.