It was Richard Tearle, leader of the Tearle research group, who first came across the story of William Tearle, the Cornish firefighter. He wrote to me in January, 2009.
Ewart – whilst idly browsing, I came upon this article:
"In September 1939 the National Fire Service was formed with Lostwithiel being a part of the service. By this time, `Loveday' was replaced by a trailer and drawn by a lorry that was kept in Skelton's Garage, Bridgend. Lostwithiel was frequently called to attend fires in Plymouth, Devonport, and Torpoint during the blitz of 1940 – 1941. During one of these raids, Section Leader Tearle lost his life, he was one of Lostwithiel Unit's earliest casualties of the war."
There are no other details that I can find – do we have any records of Tearles in Cornwall? This man clearly died as a civilian, albeit a member of the fire brigade. 'Loveday', by the way was a horse drawn steam engine….
Tracy Stanton was quickly onto the story – she had found the death registration: Q2 1941 William A J Tearle Bodmin reg dist. vol 5c page 234. Age 51.
And she had found more –
"On the Firefighters Memorial site the date is given as 26 April 1941 but his MI in Restormal Rd Cem. reads as 1 May 1941. He appears to be William Alfred J Tearle born 1890 Woburn district. I found him in the 1891 census in Toddington, mother Eliza. Ann born Falmouth, Cornwall."
Pat Field added to the growing list of telling details:
"Could this be a grandson of John 1831 and Maria Major? They had a son William 1863 born in Toddington.
1901 census: 7 Albany Road Toddington gives us William Tearle (transcribed Searle) 37 Carter born Toddington, Elizabeth 38 Wife born Falmouth and children Elizabeth 19 born Acton, Violet 15 born Acton and William A J 11 born Toddington."
We had found a Toddington man who had moved to London, married a Falmouth girl, had three children in London, moved back to Toddington and had one more. That lad, William, had moved to Lostwithiel, Cornwall, and died fighting fires in the Plymouth Blitz. Extraordinary. If he was 11 in 1901, then he was a perfect age to be dragged into WW1, which he obviously survived.
I found the Lostwithiel Museum and rang the curator, Tremar Menendez. I asked him if he knew of a William Tearle. "Oh," he said, "You best talk to Gillian Parsons, she knows everyone and everything."
Smiling, I rang the number he gave me. Gill Parsons did know everything. She and a fellow museum committee member had researched William and his death and had written an article for the Museum Monthly. She would send it to me. As a result of the article, the Firefighters Memorial Trust had carried out its own research and agreed that William's name should be added to the Firefighters National Memorial at the head of the Millennium Bridge, close to St Pauls.
"I have seen that memorial many times and examined it closely twice. I have not seen a Tearle name on it."
"His name," she said, "was added in November 2008." I had not been to see the monument since about August.
Her article, a letter and some photographs arrived by post a couple of days later. She had met Victor, William's son, in the village – he had just been to London to see the monument and he was very pleased. "Apparently," she wrote, "his father married Ellen Hambly from Covich's Mill (a very small hamlet about three miles away) near Lostwithiel." William's name had been added to a memorial in St Andrews Church, Plymouth, and Victor remembered going to the ceremony many decades ago. Victor would be pleased to speak with me if I contacted him.
Unfortunately, Victor could hardly understand a word I said because he was very deaf. "Is it all right if I come and see you?" I asked. "I would like that," he said.
"How would you like to go to Plymouth for a week in the holidays?" I asked Elaine.
"The furthest west we have been is Ilfracombe, so that would be good," she said. "What's the occasion?"
I told her my plan was to see the memorial in St Andrews Church in Plymouth and then go to Lostwithiel to meet Victor.
"Lost who?"
"Lost-with-ee-yall. Brunel country," I said. "There is a fabulous bridge near Plymouth, a railway station in the village, and a Roman bridge."
St Andrews Church was in the very centre of Plymouth and overlooked a bombed-out church lower down the same hill. The firefighters memorial was a brass plaque mounted on the wall in a small chapel. It was deeply moving. Every man listed had died fighting fires in Area 19 (Plymouth) during WW2. Tearle, W. A. J. was clearly visible at the bottom left.
The outside of the chapel was lined with several small cabinets containing large books of people's names; victims of both wars.Two of the volumes were of National Roll of the Great War. I asked a churchwarden if I could see the contents and he gleefully brought me the key. The books were beautifully printed on stiff, cloth paper, but there were no Tearles in them. Another cabinet had a hand written volume of remembrance for the Merchant Marine. I looked for Louisa nee Lees, but again, there were no Tearles. We spent the rest of the afternoon on Plymouth Hoe, examining all the monuments on Monument Hill, including those of the Crimean War and the Boer War. The Plymouth Naval Memorial took the longest, because out of sight of this view, below, is another huge semi-circle of names. There were no Tearles.
The following morning we arrived in Lostwithiel; it was a voyage of about 20 miles and the roads that William had traveled to fight fires in Plymouth would not have been as good as the one we had driven on. How did he manage it? It was raining heavily. We met Gillian Parsons. "I'll show you around the village and then I'll take you to meet Victor. First, though, is the museum." We walked down an alley near the river. "This is the Fowey River," she nodded towards the building on the other side, "and the big building is Brunel's warehouse. The other buildings were part of the railway station, but have been converted to apartments. Brunel's building is untouched."
"The railway?" I asked.
"We are on the line from Paddington to Penzance via Plymouth," she said. "It wasn't dug up by Dr Beeching so it still works." She stopped. "Here is Fore St. It used to be called High St, but not now. Mind you, it still is the high street." She unlocked the door of the museum. "I'm afraid you can't take any photos," she said, "but this is the very first Lostwithiel fire engine, given to us in 1716 by Lord Edgcumbe. Alongside it are the bellows from the smithy."
I looked at the tangle of wooden spars and wheels. It was like something out of a storybook that had suddenly come to life. The fire appliance was tiny, and obviously horse-drawn. How on earth did it ever put out fires? There was no tank; where did the water go? "It delivered men to the fire, not water," she said. "When they got there, they fought the fire with buckets and beaters."
"When I first heard about the Lostwithiel Fire Service," I said, "they mentioned a horse-drawn fire appliance called the Loveday. Is this it?"
"No," she said. "That was the third appliance the service owned. It was bought in 1904 and was definitely our most famous. The Loveday was named after her daughter by the then mayoress of Lostwithiel and this building was the old fire station that the Loveday set out from for any of the village fires. The new fire appliance was a trailer pump unit, drawn by a lorry, which was garaged in Bridgend. It's only just up the hill so the men did not have far to go to get it." She opened a drawer and showed me a remarkable photograph.
"Here is the Loveday," she said, "a steam-powered, horse-drawn pump. By late 1939, shortly after this photo was taken, the National Fire Service was formed and we took delivery of our new appliance."
I studied the picture with William, marked with a cross, sitting proudly at the front of his beloved fire engine. "The Loveday was a Merryweather appliance, quite well known in London, where they also had self-propelled versions. Ours may have been horse-drawn, but it still put out fires and it still saved lives," said Gill.
And on the right are his service medals.
Below is a recent medal from the Russians celebrating sixty years since the Russian relief supply convoys first operated.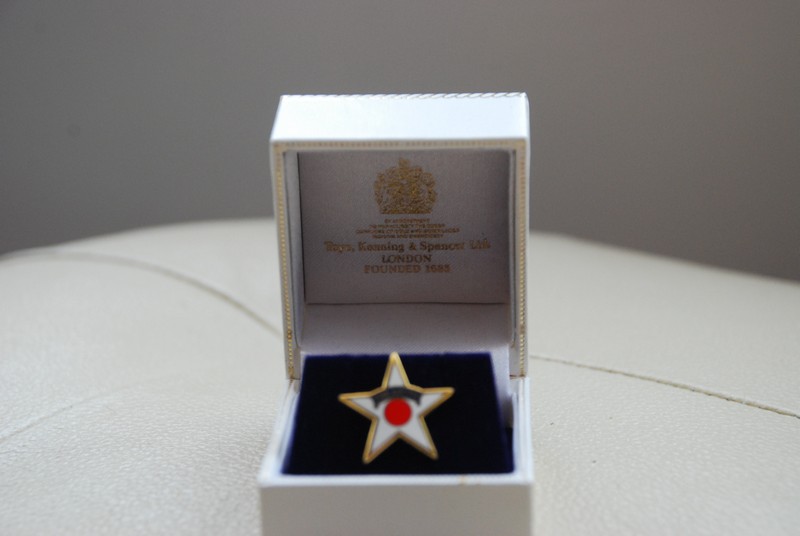 Here is the text on each of their headstones:
and here is the view to their grave from the cemetery gate.
You can see the vase of flowers in the middle ground on the left diagonal from the front headstone.
I cannot overstate the admiration I have for Victor, and for his father, William AJ Tearle. Mavis said that at heart Victor "was just a Cornishman," and if that means he was a generous, full-hearted man, with a love of life and a deep appreciation of his obligations, then we can leave that thought as his epitaph.