At the end of WW1, a private initiative began that tried to tell the stories of the soldiers of WW1. It was called National Roll of the Great War and while volumes were written, the work could hardly be called comprehensive. However, of the seventeen Tearle men whose stories are in the Roll, one volume does include the stories of two Stanbridge men, who were lucky enough to survive the war. The first is Frederick, and the second is Frederick's younger brother, Edgar Tearle 1890.
Here is Frederick's entry in National Roll:
Tearle, F J, Private, 8th Bedfordshire Regiment, who gave his address as Tilsworth Rd, Stanbridge. Below is his entry in National Roll:

This man was Frederick John Tearle, 1884 of Stanbridge, regimental number 27560 Bedfordshire Regiment and 59749 Suffolk Regiment.
It is a little odd that National Roll says that Frederick earned the 1914-15 Star, because his service medal record leaves this off.
Mind you, they do not mention which Theatre of War Frederick joined (France) and when, so perhaps the card is incomplete.
Frederick was a son of John Tearle 1862 of Stanbridge and Annie nee Walker. John's parents were James Tearle 1823 and Hannah nee Philips. James' parents were Richard and Elizabeth nee Bodsworth, and that means that Frederick was on the branch of John 1741.
In the 1901 census Frederick was 17, Edgar was 10yrs old and at school and there were Alice Agnes, 6yr, and Mabel Edith only 1yr. John was a carter on a farm and Frederick was a cowman. The 1911 census, as usual, is a little telling. The form is filled out by Annie, and that reminded me that on their wedding certificate in 1884, John made his mark, but Annie signed her name. It tells us that although in their late 40s, the marriage  had already run for 28yrs, that they had 7 live births, but that two had since died. John is a roadman for the County Council, and I think that would be a good step up, and would pay better, and more reliably, than carting farm produce. Frederick (27yrs) was still a farm labourer, and younger brother Edgar, now 20yrs old, was working at a plant nursery. Alice Agnes is 15yrs and still at home.
In 1914 the entire land mass of Europe shook with the oncoming rush of war. Britain's treaties caused her to take sides, and she dived headlong into a disaster on a global scale. Edgar signed up first (it was going to be over by Christmas, remember) in September 1914, and Frederick, who was but a grain of sand on a beach pounded by mighty waves, signed up too. It was March 1915.
Three of the battles mentioned in National Roll were vast slaughterhouses over months of war. The gently rolling lands of southern Belgium and Pas-de-Calais in northern France, where the River Somme winds lazily to the sea, were battlefields carved deeply with dugouts, underground headquarters and trenches. Disease was rife supplies ran out, and often the enemy trenches were as close as 100m. In this terrain, men fought for days for no gain, and in that endeavour they died in their tens of thousands. Frederick was unbelievably lucky to survive. It looks as though his injury in the Battle of the Somme was sufficiently serious for him not to be sent back to the battlefield. He was also, I think mostly for administrative reasons, transferred to the 8th Battalion, Suffolk Regiment, which reviewed his documentation and approved the awarding of his service medals. This also explains how he was given two army numbers. He was finally free to go home.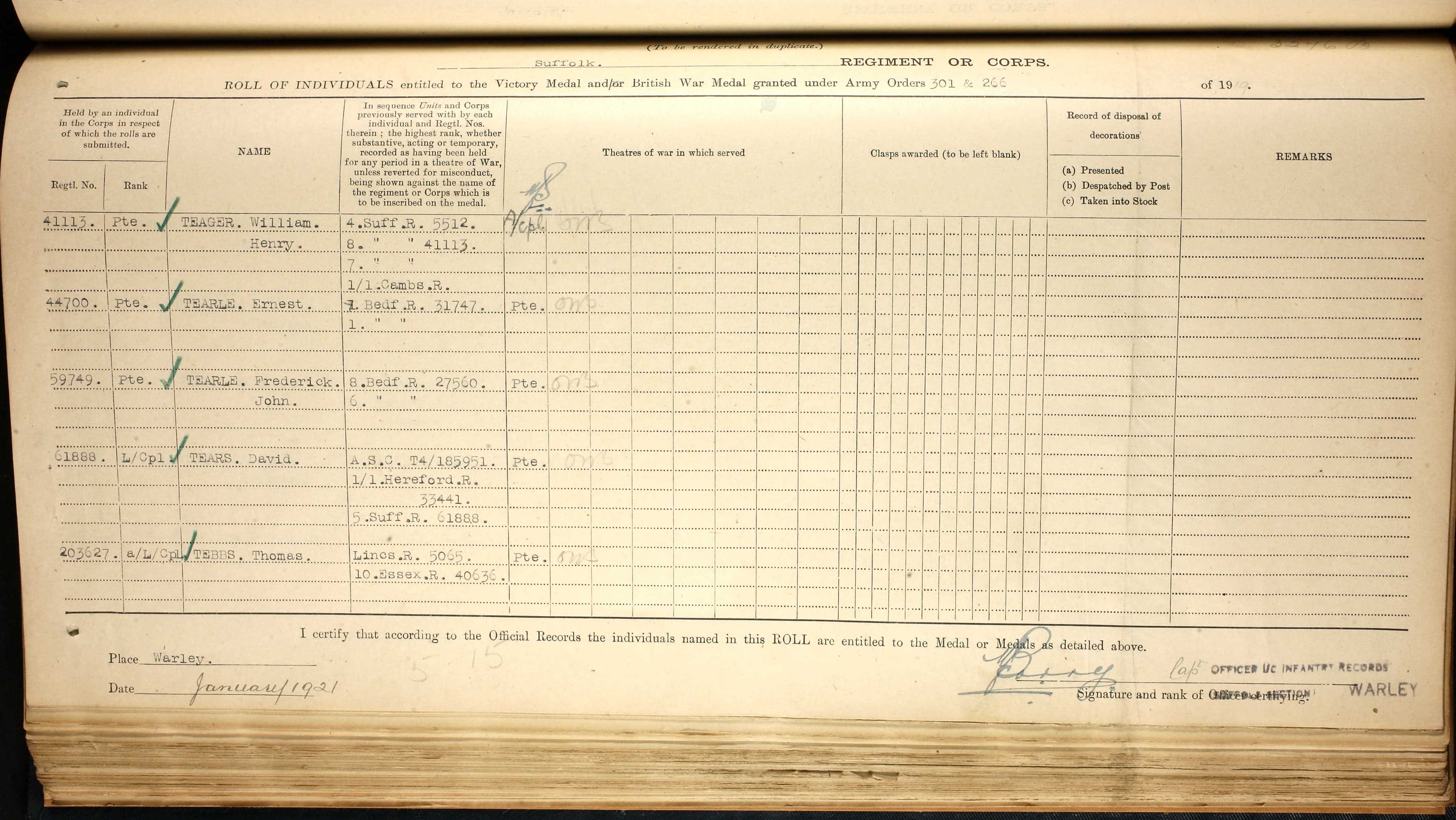 But in what condition did he return home? The noise, the carnage, the friends he lost, all of these would have taken an enormous toll on him. In the battle of Cambrai, it was noted that large rats ate the bodies of dead soldiers. That the daily toll of men was about 300, even when the artillery was not firing. And Cambrai, remember, was when tanks were first used on a large scale. The battle of Cambrai was also where Charles Tearle 1894 of Preston was killed, and Ernest John Tearle 1898 (on the same page, above) was gassed.
I mention this, because Richard Inns, a Stanbridge villager, told me that Frederick returned to his parents' house, closed the curtains, and was seldom seen outside the house for the rest of his life.
Over time, this house saw sad events:
John 1862 died in 1927
Annie nee Walker, John's wife, died in 1931
Alice Agnes died in April 1956
Frederick died in September 1956.
So far as I know, Frederick was the last person living in the house; I suspect that the loss of his sister would have hastened his death.
Four houses from the intersection of Pedders Lane and Tilsworth Road is the house where the last Tearles in Stanbridge lived. It has been added to, but it still exists:
When you read the service that Frederick did for his country, and the horrific battles he fought in, there can be no wonder that he could not (or would not) marry on returning to Stanbridge. It is also little wonder that his entire world was reduced to the interior of the last place where he had felt affection and security.
Edgar died in Churchill Hospital in Oxford in 1950, but he had been living in Leighton Buzzard until then; I am not certain where Eric was living at the time, but when he died in September 1968, he was the last person born in Stanbridge to carry the Tearle name. A name which had lived in this village since at least 1580, was gone.