On the Roll of Honour in the Dunstable Priory Church, and the War Memorial near the gates, there are two names, Tearle G and Tearle J. The first is George Tearle, born 1876 in Dunstable; the second is Jeffrey Tearle, born 1891 in Eaton Bray. At fourth cousins, they are only distantly related.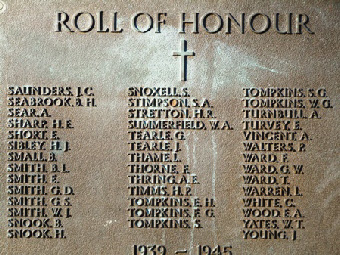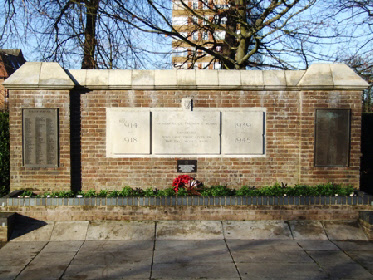 Here is George's service record from the CWGC:
Name: TEARLE  Initials: G
Nationality: United Kingdom
Rank: Private
Regiment/Service: Bedfordshire Regiment
Unit Text: 1st Bn.
Date of Death: 18/01/1920  Service No: 4967
Casualty Type: Commonwealth War Dead Grave/Memorial Reference: E. 471.
Cemetery: DUNSTABLE CEMETERY

Those details are from Roll of Honour.
TEARLE G Private 4967. 1st Bn., Bedfordshire Regt.
Died Sunday 18 January 1920.
Buried: DUNSTABLE CEMETERY, Bedfordshire, United Kingdom. Ref. E. 471.
This, is George Tearle's WW1 CWGC headstone in the Dunstable public cemetery. Born in Dunstable in 1876, he joined the army at 18yrs and caught rheumatism in the trenches in France. He was also in India and Gibraltar.
Steve Fuller says:
"George Tearle is a strange one as it happens! I have been pondering him for some time and have finally understood his position in it all but he seems to have followed an unusual sequence that I have not come across before. His service number is that of the 5th Battalion (Territorials) and should not have been allocated until late 1914 / early 1915 according to the "normal" flow of things … BUT … he entered France with the 1st Btn 3rd December 1914 and was discharged 1st March 1919. This implies he served the entire war and survived, only to die of illness in 1920 (the Spanish Flu perhaps?). Maybe he was a Regular whose service had only just come to a close when war was declared but that would usually mean he would have kept his original number which would not have been in the 49.. area!
George enlisted in the 3rd Bedfordshire Regiment on 20 June 1894, aged just 18yr 7m. He already had experience in the militia so that is probably the reason he went into the 3rd Battalion, the Bedfordshire Regiment, where he was given the regimental number 4967, which he kept for the rest of his life. He was 5" 5in and weighted 112lb; a Wesleyan, a labourer with hazel eyes, brown hair and a scar on the right side of his head. He signed up for a term of "7yrs with the Colours and 5ys in the Reserve." I think this means 7yrs active service. The term was extended in 1901 when he was given an "unpaid" Lance Cpl rank.This was "deprived" a year later. He was re-engaged in 1906 and he passed his corporal's exam in Nov that year. He was given a "paid" Lance-Cpl rank in Aug 1907 but he must have been a bit unruly because it was deprived again that Christmas and he stayed a Pvt for the rest of his service. 18 months after joining, George was sent to India for about 2 years, then after a spell at home he was in Gibraltar for 12 months in 1907 and 8. He was "Invalid to England" from Gibraltar Hospital with an eye contusion on 15 Oct 1908. The injury, he attested, was "not caused by active service."
I cannot find any records about George until he embarked for France on 2.12.1914. There are no records that say where he went or what action he saw, but in April 1915 he was transferred to the 2nd  Field Survey Coy, 2nd Army as a "servant" for Lieut Lightfoot, and he stayed with the Field Survey Coy in France until he was finally sent home in January 1919. His WW1 medals card says he earned the British Medal, the Victory Medal and the Star, and that the Theatre of War was France.
George filled out a disability statement, and while we find out how his injuries feel, he gave us the crucial hint as to his identity – his home address was 14 Church Walk, Dunstable.
I had to cut the document in half to fit it on the page…
In the 1901 Dunstable census, this was the address of Charles Bowler Tearle and Constance. Finally, I knew who he was. On 2 Aug 1919, George was given his final discharge from the army because of rheumatism and a single page with a large Z on it shows his pension being paid. It says "Died 18.1.20." George had gone through turbulent times and had served his country as a professional soldier.  His parents were Charles Bowler Tearle 1849 of Dunstable and Constance nee Dickens. Charles' parents were James Tearle 1806 and Mary Ann nee Webb. James' parents were Richard Tearle 1778 and Mary nee Pestel, and Richard's parents were Joseph 1737 and Phoebe nee Capp. Thus, he is of the branch Joseph 1737.