If you thought Chalgrave was small, then Thorn, where Levi was born, is little more than a scattering of farm buildings. As you leave Dunstable on the A5 going north down Chalk Hill, you will see the A505 left to Stanbridge. A couple of hundred metres along to the right is Thorn Rd. Thorn is a couple of kilometres on your left. Levi's parents are William 1815 of Chalgrave/Tebworth and Hannah nee Pratt. William's parents were Richard 1778 of Stanbridge and Mary nee Pestel, and Richard's parents were Joseph 1737 of Stanbridge and Phoebe nee Capp. Thus Levi is of the branch Joseph 1737. You can follow his progress through the 19th Century censuses below. He married Mary Summerfield of Dunstable in 1874.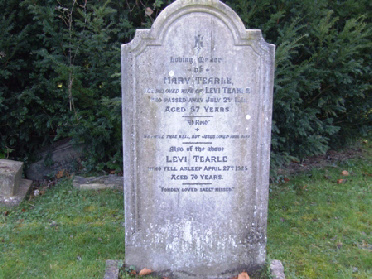 1861 = William 1815 Teb Hannah 42 Charles 20 George 18 Elizabeth 15 Ann 10 Levi 6 Mary A 2 in Dunstable
1871 = William 1815 Chal Hannah 52 Charles 30 Elizabeth 25 Anne 19 Levi 16 Mary 12 in Dunstable
1881 = Levi 1855 Thorn p1 Mary 27 William 5 in Dunst
1881 = Levi 1855 Thorn p2 Ada A 3 Alice M 2 Sydney G 7m in Dunst
The young couple were both involved in the straw hat industry – Levi as a plait dyer, and Mary as a hat sewer.  
1891 = Levi 1855 Dunst Mary 37 William 15 Ada 13 Maud 11 George 6 Edward 2 in Luton
Levi and family have moved to 13 Melson St, Luton. Levi calls himself a Plait Dyer and Bleacher and he seems to be earning enough such that Mary does not have to work. As you know, Luton was the centre of the straw hat industry, and even to this day, Luton Town football team is called The Hatters and Luton still has an active and world-renowned hat industry.
1901 = Levi 1855 Thorn Beds Mary 46 Alice M 21 Sidney G 14 Edward J 11 in Luton
This is the last view we have of Levi and his family. He is at the same address and still a Plait Dyer.
He died 19 April, 1925.