Douglas Hubert Tearle 1923
By Alan Tearle
April 2016
This news cutting recently came to light celebrating the fact that Douglas Hubert Tearle was mentioned in Despatches (MiD) whilst serving as a telegraphist in the Mediterranean during WWII.
So who was Douglas, what did he do to warrant the MiD and what else did he experience during that time?
After further research and information from his family, this is his story.
Douglas was born in November 1923, in St Albans to Hubert Major Tearle 1893, of Toddington and Daisy Rose née Howard. Doug and Hubert were descendants of John Tearle 1741.
Douglas was called up in August 1942 at the age of 18½ and chose to join the Royal Navy. His service record is below.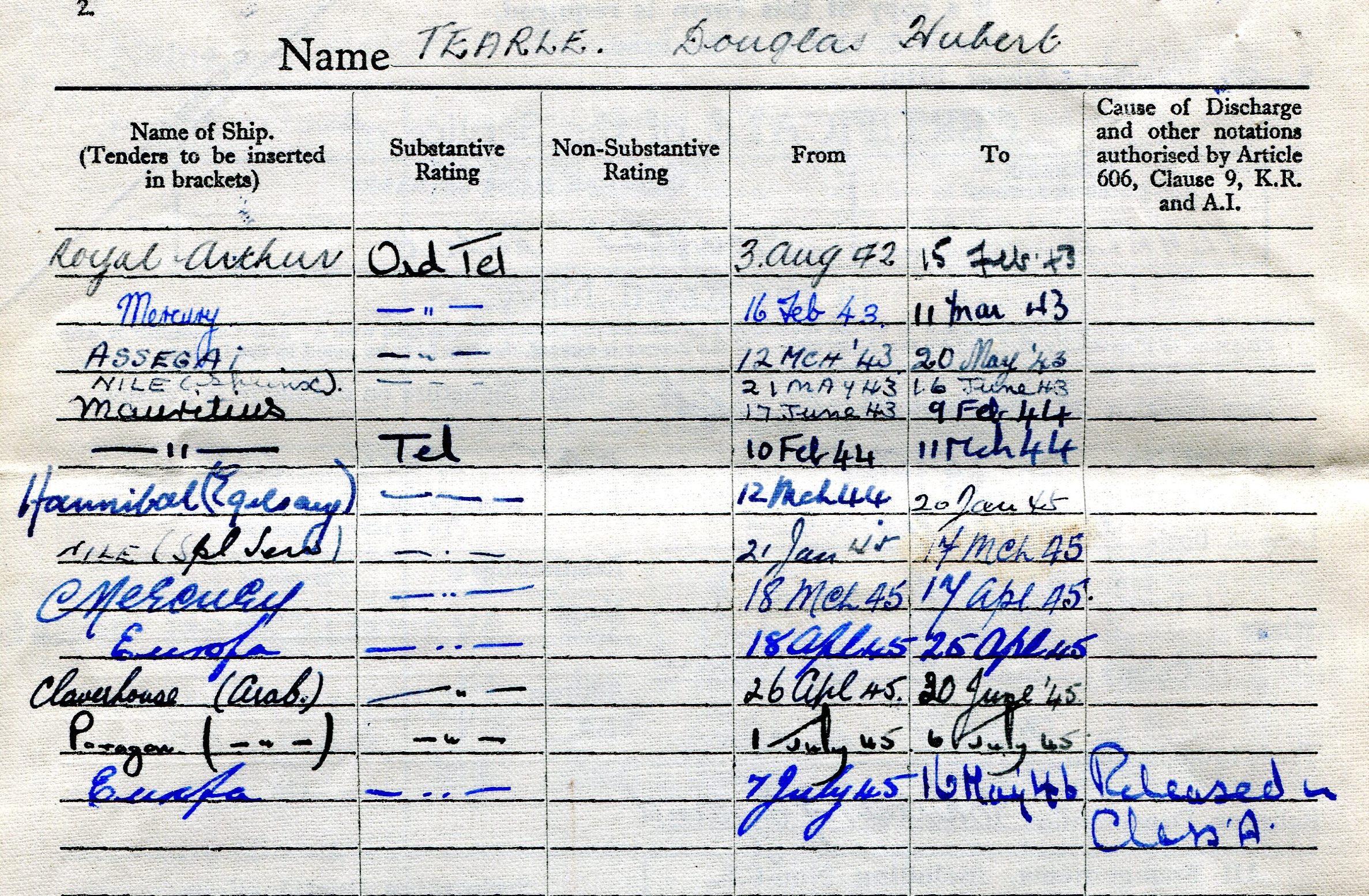 Looking at his record in more detail:
HMS Royal Arthur was a shore-based training establishment for signallers, sited at the Butlin's holiday camp near Skegness.
HMS Mercury was another shore-based training establishment for signallers at East Meon near Petersfield commissioned in 1941. Doug's wife Phyl recollects that HMS Mercury was in Portsmouth. (see Phyl's memoirs below). There was a signals school in Portsmouth which then transferred to East Meon so maybe there was a period of overlap.
HMS Assegai was a central drafting pool, transit camp and central training establishment at Wentworth near Durban, South Africa.
HMS Nile (Sphinx)  was a shore establishment based at Ras el Tin Point, Alexandria. The Sphinx in brackets refers to the accommodation camp adjacent to HMS Nile.
HMS Mauritius was a Fiji or Colony class light cruiser. Doug spent ten months on board during which time they supported the allied landings at Sicily (Operation Huskey), Salerno (Operation Avalanche) and Anzio (Operation Shingle) as well as taking part in convoy and escort duties.
He was serving on HMS Mauritius when he was promoted from Ordinary Telegraphist to Telegraphist. The reason for the promotion is not recorded but it may have been a natural progression through service and experience or filling a gap left by another Telegraphist being transferred.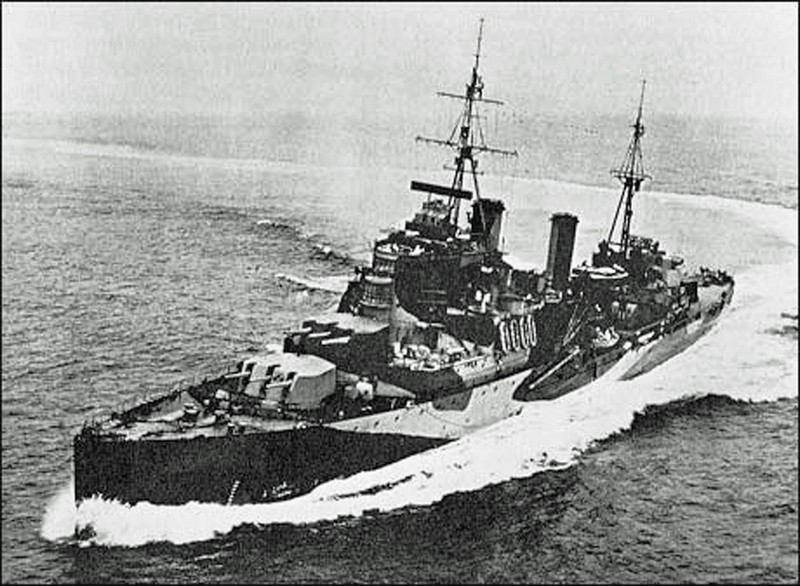 Above:    HMS Mauritius
Launched           19. 7.1939
Commissioned     1.1.1941
Scrapped                  1965
HMS Hannibal (HMT Egilsay). HMS Hannibal was a Naval Special Operations base for inshore craft of the African Coast Flotilla. The name in brackets is the standard notation for the vessel he was serving on whilst based there, in this case His Majesty's Trawler Egilsay.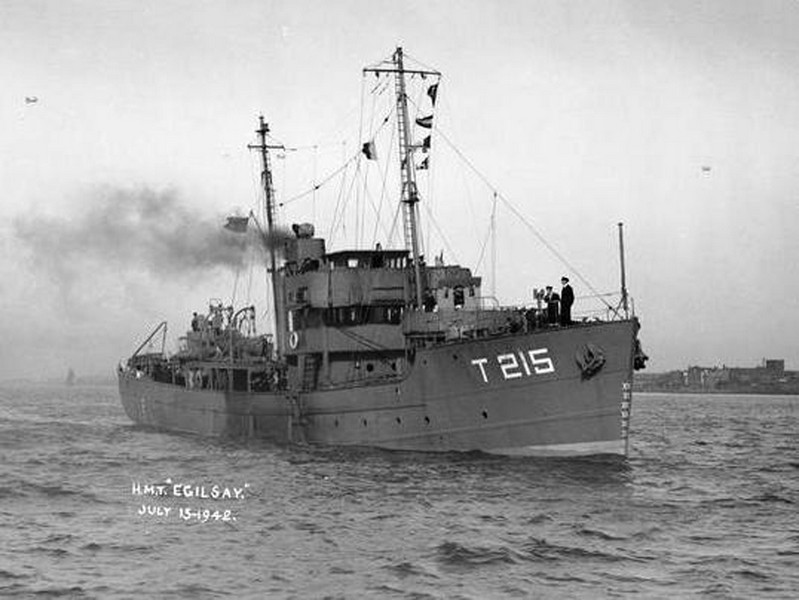 Above:     HMT Egilsay
Launched             7.2.1942
Commissioned     8.7.1942
Sold to Italian Navy   1946
HMT Egilsay was an Isles class trawler/minesweeper probably stationed in the Mediterranean as  part of a detachment of the Royal Naval Patrol Service (RNPS). Doug served on board for ten months.
This was followed by more time at HMS Nile before returning to the UK and HMS Mercury followed by a week at HMS Europa, the RNPS Headquarters and one of five naval bases in Lowestoft.
HMS Claverhouse was a shore base which covered several ports on the Firth of Forth. During this time he was assigned to HMT Arab in Rosyth. Earlier, in 1940 the commander of HMT Arab, Lieutenant Richard Been Stannard, won the only Victoria Cross awarded to a member of the RNPS, during the Narvik campaign.
Doug then spent one week in HMS Paragon, a minesweeper base in Hartlepool still with HMT Arab before returning to HMS Europa for a year while the authorities processed the paperwork for a Class A (early!) release.
Phyl Tearle's memoirs

Doug could not be persuaded to write down his experiences so his wife, Phyl, whom he married in 1946, did it for him. Below is an extract from her 1996 memoirs covering Doug's time in the navy.
In August 1942, when Doug was 18½, he was called up for service and he chose the Royal Navy. He did 6 months initial training as a Telegraphist at land base HMS Royal Arthur at Skegness. They lived 3 to a chalet which had one single bed and one double bed so that two men had to sleep in the double bed with a board down the middle. It was bitterly cold that winter and life was far from comfortable. (Lucy's father also experienced life at Skegness a year before Doug and he too remembers the hardships only too well.) [Lucy is Doug and Phyl's daughter-in-law. Her father, Ewart Oakeshott, also trained at HMS Royal Arthur in 1941 where he contracted TB and was invalided out before ever going to sea.]
From Skegness Doug went to the Signal School, HMS Mercury, at Portsmouth. He was there for a month waiting for a draft and said he spent most of that month just sweeping up and wasting time. In March 1943 he was drafted to land base HMS Assegai in Durban and was there for another month. After that he was on a Dutch troop ship, the Rhys, and they sailed to Port Tufiq at the south end of the Red Sea. From there they went by train to a transit camp HMS Sphinx at Alexandria. His next draft was to a cruiser HMS Mauritius. Their first job was to sail back through the Suez Canal to the Red Sea to test the twelve 6″ guns in preparation for the landing on Sicily. The Mauritius played her part in the invasion of Sicily, and also sailed up the Italian coast supporting the Army landings at Salerno, Naples and Anzio. During these manoeuvres they could see Mount Vesuvius erupting, and they could also see Mount Stromboli which was smoking continuously. These were good landmarks for them. The Mauritius supported the landings in southern France at Marseilles and Toulon. When given a few days "rest", some of the crew, including Doug, climbed up Mount Etna and that too was still smoking. There was snow at the top of Mount Etna and the lads used an old door from an observatory as a sledge to get down.
Around March 1944 the Mauritius was ordered home as she had completed her overseas spell but Doug was left at Malta and was soon drafted to HMS Egilsay, a T-class minesweeper. The Egilsay was a fishing trawler converted for the purpose of minesweeping, convoy escorting and anti-submarine duties. Normally in its days of fishing the Egilsay carried a crew of about ten; as a minesweeper it had a crew of fifty (4 Officers, 5 Petty Officers and the rest Ratings), so conditions were very cramped to say the least. When they first joined the Egilsay every member of the crew had to go through the practice ordeal of hearing the order "abandon ship" and jump into the sea no matter what they were doing. Who'd be a sailor!
There was only one other Telegraphist besides Doug and the two of them were working 12 hour shifts.
It was soon after Doug joined the Egilsay that Barbara was born, and the family gave me the job of telegraphing the news to him. I obviously didn't word it very well and it read as if Doug was the father. When the Captain of the ship received the telegraph he sent for Telegraphist Tearle and congratulated him on the arrival of his daughter. "But I haven't been home for 2 years", said a puzzled Doug! I have never lived that faux pas down. [Barbara is the daughter of Doug's brother Leslie and Phyl's sister Mollie.]
At one time the transmitting aerial had snapped during the bad weather and Doug had to climb the mast to replace it. The sea was exceedingly rough and the ship very small with the result that while he was up the mast he seemed to be always over the sea and never over the ship! Not a happy experience. At times the sea was so rough that when the sailors went down the gangway to the deck, they would put their feet on the top step and then find themselves on the bottom step without having to actually climb down.
The Egilsay's time was spent escorting convoys to the south of France, and minesweeping all around Greece preparing the way for troops to land. When sweeping here they were joined by about 6 other minesweepers, all sweeping non-stop. Supplies were short as they had no base to go to, and they used to anchor at night in any harbour or bay they could find amongst the Greek Islands. One night, with all the interference and geographical difficulties, Doug couldn't get through to Malta to give the Captain's daily report although he could hear Malta transmitting. He could also hear London transmitting, so he took a chance and after using all sorts of necessary codes etc. managed to pass his report to London who in turn transmitted it to Malta.
On one occasion when minesweeping they came across what appeared to be the new type of mine which the Germans had just started using.      Absolute panic!     Somehow they managed to tow it in to harbour but the harbour authorities didn't want them there in case the thing went off.    However, the "mine" turned out to be a new shaped ordinary buoy. Were their faces red!
During all the minesweeping time, which you can imagine was absolutely horrendous, recommendations for awards were sent through, and Doug was "mentioned in a despatch for distinguished service" and received the oak leaf. The Chief Petty Officer Engineer of the Egilsay was awarded the DSM. Apparently it doesn't matter how long you spend at sea, you still get seasick, and I have visions of Doug sitting transmitting with his bucket beside him at the ready, which is exactly as it was.
At last in mid January 1945 he was drafted home travelling on a landing tank craft, and I gather the bucket was in use again going round the Bay of Biscay. He had been away from home for a very long time and when he walked in the house at Radlett his mother just burst into tears. After a spot of leave he joined another trawler, HMS Arab in Rosyth. The Arab had been badly damaged, and Doug and others were lowered over the side on a plank and given the precarious job of painting her. While in Scotland he took part in the Victory Parade in Princes Street in Edinburgh.
Mentioned in Despatches
So far no record of Doug's MiD citation has been found. The Minewarfare & Clearance Diving Officers Association does list many WWII awards for RN minesweeping but unfortunately it is not complete. A typical MiD citation for members of the RNPS reads,
'……..awarded for steadfast courage and skill in dangerous and important minesweeping operations.'
It appears that MiDs were awarded for distinguished service rather than specific actions.
His service number was LT/JX359565. The 'LT' signified Lowestoft as his Port Division (Welfare Authority), the 'J', that he was classified as a seaman or communicator and the 'X', that he joined after the pay review of 1925.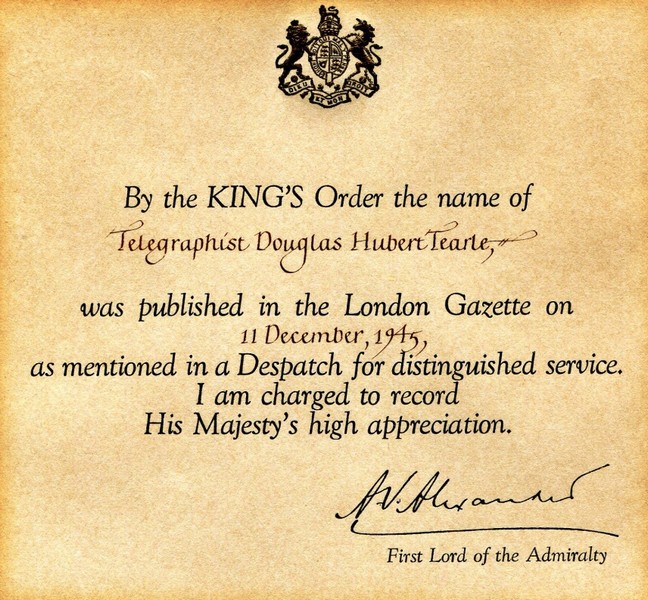 All RN personnel who were Mentioned in Despatches  received a commendation from the Admiralty and an Oak Leaf to wear as a bar on their War Medal 1939-1945. Doug's commendation hangs proudly in his son's dining room.
The Royal Naval Patrol Service
The RNPS was originally set up using trawlers and small ships to protect the home coastal waters but later were also deployed for minesweeping and escort duties in the North Atlantic, the Arctic, the Mediterranean and the Far East.
They were often referred to as 'Churchill's Pirates' or 'Harry Tate's Navy'. The latter name came from a music hall star whose act included anything mechanical going wrong and falling apart. The RNPS was originally made up of small old vessels, mostly commandeered trawlers and their crews, both of which were not considered 'shipshape' by other branches of the service. The work was so hazardous that by the end of the war the name had become synonymous with courage.
There is currently no evidence that Doug was a member of the RNPS other than the fact that he served on HMT Egilsay and that other ships of that class are listed as being part of the service. Members who completed more than six months sea time, as Doug did, were rewarded with a silver badge. Unfortunately, if Doug did receive one, it has been lost. There may be a reason for this in that the original badge issued had a vertical pin on the back and was easily lost. The design was changed to one with four holes to be sewn on to the uniform sleeve and it may have been overlooked when his uniform was disposed of.
However, on the museum page of the RNPS Association website it states that:
'Lining the walls of the Europa Room are the 17 boards listing the 850 or thereabouts honours won by members of the RNPS during WW2, including a VC, along with a list of over 200 'Mentioned in Despatches''.
A visit to Lowestoft may be called for soon.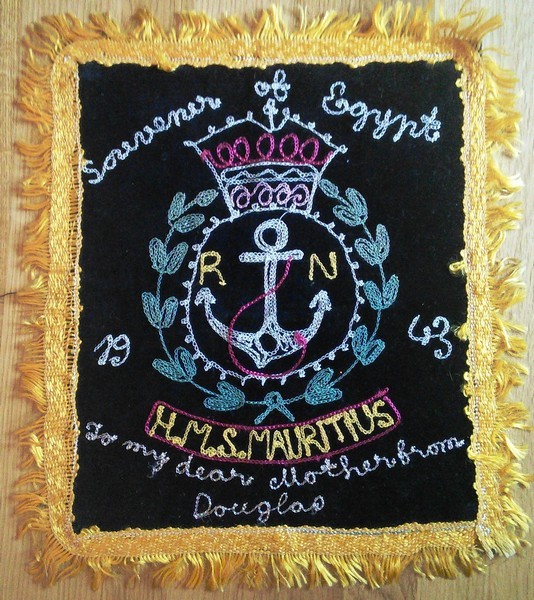 One last piece of memorabilia.
An embroidery by Doug to take home to his mum.
Later life
On leaving the navy Doug returned to the grocery trade becoming a manager for Kinghams in Hendon and then Finchley. 1957 saw the family move north where he managed shops in Stratford-upon-Avon (1957-1960), Solihull (1960-1978) and Kenilworth (1978-1980) for George J. Mason and later for International Stores. Whilst at Solihull, they had a delivery driver who always had everyone in stitches when he was in the shop. His name was Bob Davis, probably better known as Jasper Carrott.
His last job was as an office manager for a small company where Phyl was the office secretary. He retired in 1988 and passed away in 2001.
Douglas Hubert Tearle 1923-2001
© Alan Tearle 2016