Contributed by Wendy Skelley, Auckland, New Zealand.
Born: 16 June 1881 in Chiswick, Middlesex, England
Died: 28 February 1967, Mt Albert, Auckland, New Zealand
Egerton was a young man when his father died in 1900. It was not long after that he became a soldier.
Boer War as an Australian soldier
Service Number 99, of the 6th Queensland Imperial Bushmen (6th QIB);
Served in the Second Anglo Boer War in South Africa from May 1901 to May 1902.
Egerton Burleigh Cooper Cecil
Description on Enlistment
Number…………………………………99
Rank…………………………………….Private
Name……………………………………Egerton Burleigh Cooper Cecil
Hair…………………………………….. Dark Brown
Eyes…………………………….……….Hazel
Complexion……………………………..Dark
Height……………………………………5 feet 5.5 inches
Weight…………………………………..8 stone 12 pounds
Chest measurement……………………..32.5 inches
Chest Expansion…………………………34.75 inches
Age………………………………………22 years and 7 months
The 6th QIB departed from Australia at Pinkenba, Brisbane on April the 4th 1901 on the British transport "Victoria". Upon arriving at Cape Town on May the 2nd 1901, the convey moved out and proceeded to Durban arriving on the 7th of May. Near Ermelo on the 21st Boers sniped at the flank with the 6th QIB suffering a few casualties; however they succeeded in capturing 15 Boers and much stock.
June 2nd, sustained their first loss to enteric fever. Brisk engagement on the 11th at Kaffir's Spruit. Surprised and captured a laager on the 13th at Kopjesfontein on the right of the Vaal River. On the 21st June captured two Boer conveys suffering some casualties. June 22nd fighting at Lindique Drift with some casualties.
During August made substantial captures at Bultfontein. September, October and November in operations at Wakkerstroom district and east of the Transvaal. During December marched to Newcastle by Botha's Pass and through Drakensberg to provide protective cover during the construction of blockhouses in that corner of the Orange River Colony.
On the 2nd of February 1902 at Liebenberg's Vlei the 6th Imperial Bushmen joined with the New Zealanders and pursued a Boer convey in the area then charged the enemy's rear guard with much gallantry, whilst the South African Light Horse bravely rushed the centre. Three guns with 3 wagons of ammunition, 26 prisoners (including 2 captains and a field cornet), 150 horses and mules plus 750 cattle were taken. Five Boers were killed and eight wounded. By the end of February after a big drive 300 prisoners had been taken.
During March and April several drives were undertaken with similar success. The 6th QIB embarked at Durban on May the 17th, 1902 in the Transport Devon and arrived at Albany on the 5th of June, Sydney on the 13th and Brisbane on the 17th then disbanded on the 23rd June 1902.
E.B.C. Cecil as a private was paid 5 shillings per day. A proportion amounting to 1 shilling was requested to be paid in South Africa for personal needs with the balance of his pay of 4 shillings to be forwarded to his mother Mrs. A.C.Cecil C/- Albion Post Office, Brisbane.
Mrs. A.C.Cecil resided in Brisbane at the corner of Milne Street and Old Sandgate Road (now Bonny Avenue), Albion in a residence named "Fernmount".
E.B.C. Cecil was issued, upon arrival in South Africa, with a Lee Enfield Cavalry Carbine Mark 1* Serial No B394 in .303 British calibre. He carried this weapon throughout the campaign and suitably engraved the butt stock to commemorate his contribution.

This particular specimen with the serial number B 394 was the 10,394th in a production run of 26,647 for the Lee Enfield Cavalry Carbine Mark 1*. Manufactured at Enfield in 1900, The Mark 1* was the last of the line of the Lee Enfield Carbines.
This mark or model replaced the Lee Enfield Cavalry Carbine Mark 1 as a result of the abolition of all clearing rods in British service in 1899. The Mark 1* was the same in all respects with the exception of the omission of the clearing rod. The mark was introduced into British service on August 7th 1899 and replaced in 1902 by the standard British all Services weapon the Short Magazine Lee Enfield Rifle Mark 1.
Egerton's Boer war history and gun are featured in the book "Carvings from the Veldt" written by Dave George.
Information on his record indicates E.B.C. Cecil was not wounded or incapacitated by illness and returned to Australia healthy.
Private Egerton Burleigh Cooper Cecil was issued with a Queens South Africa medal and two clasps 'SA 1901 and SA 1902'.
Private Egerton Burleigh Cooper Cecil was issued with a Queens South Africa medal and two clasps   'SA 1901 and SA 1902'.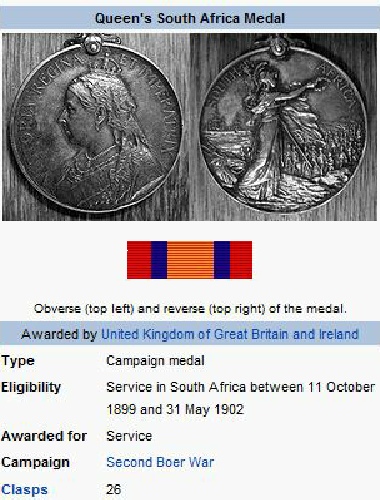 During 1902 Egerton returned to Durban, Natal in South Africa to obtain employment. His brother was also in Natal at this time. It is unknown if he obtained employment, but while there he met Katherine Tebay (nee O'Keeffe), who was also in South Africa with her husband.
New Zealand
By 1907 Egerton is living in New Zealand with a Catherine Tebay (nee O'Keeffe). She was also known as Kathleen Frances Cecil and Kathleen F Tebay. She had married Mr Robert Tebay at Ballarat, Victoria, Australia in September 1900. It is unknown what happened to her husband. No record of him after their marriage has been found.
The family story is that Egerton & Catherine met in Pretoria, South Africa and returned to New Zealand together. Egerton's brother Aubrey was also in Pretoria in 1902. Robert Tebay's brother, John, died in Natal about 1902; I cannot find war records for either of them.

After they settled in New Zealand together, Egerton and Catherine lived at Arahiri, Putaruru in the North Island where he was a sawmill hand, they were still living there on the 1911 census.
They had two children: Burleigh Victor Cecil (1907) and Melba Doreen (1908). Both children were registered without a father's name, and with their mother's married surname – Tebay. However, Egerton accepted responsibility for his illegitimate children, and in 1917 his son's birth certificate was amended with his name certified as father. (They are also acknowledged in his estate after he died.)
During 1914 the family lived at 1 Montague Street, Newton, Auckland. Egerton was working for the New Zealand Railways.
Sadly in 1916 things got rough and Egerton was convicted of assault and sentenced to six months hard labour in Auckland. Due to circumstances the children were taken from Egerton and Catherine and became wards of the state. Egerton and Catherine separated under difficult circumstances.
Before Egerton left for war in 1918 he married Edith May Viall (who already had a young daughter called Lily) and they lived together in Mahurangi, Rodney, Auckland. Egerton was working as a clerk.
Egerton embarked on the 16th May 1918 at Wellington, New Zealand.
While he was away at war his brother, Aubrey Bruce Cooper Cecil, died in Brisbane, Australia.
WW1 as a New Zealand Soldier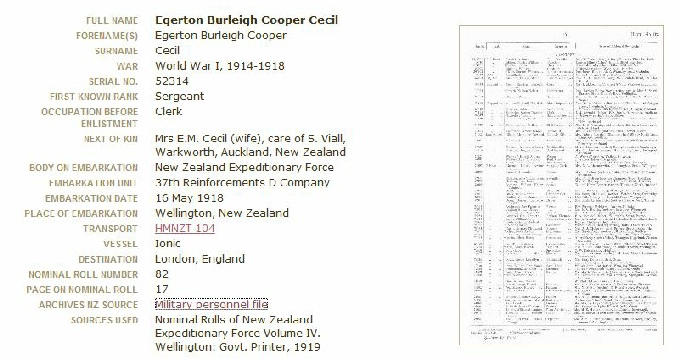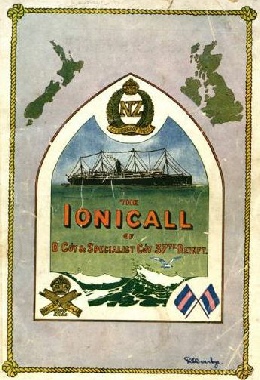 The following is sourced from Egerton's WW1 Medical Files:
5 November 1918  Injury to his right ankle while in France when his trench was blown in by a shell explosion.
28 November 1918   While he was in hospital he developed influenza.
10 January 1919  Medical notes from NZ Command Depot, Codford, Wiltshire, England    2 month med cert.
9 April 1919   HMNZTS Paparoa, 3 month med cert.
24 June 1919   Certificates sent from Sick & Wounded records to Base records.
20 August 1919  Letter for report of medical prognosis from military base.
7 October 1919  Auckland base, 3 month med cert.
We have no record of when he became a sergeant.
It is noted however, on Egerton's medical records that he was wounded on the 5th November 1918 in France. It is possible that he was involved with the recapture of the French town – Le Quesnoy.
One report says:
"As recently as a week before the Armistice, on 4 November 1918, New Zealand troops had been involved in the successful recapture of the French town of Le Quesnoy. The attack cost the lives of about 90 New Zealand soldiers – virtually the last of the 12,483 who fell on the Western Front between 1916 and 1918."
New Zealand had the highest per-capita loss of any nation involved in WW1.
Another report notes:
"Just a week before the end of the First World War in November 1918, the New Zealand Division captured the French town of Le Quesnoy. It was the New Zealanders' last major action in the war. To this day, the town of Le Quesnoy continues to mark the important role that New Zealand played in its history. Streets are named after New Zealand places, there is a New Zealand memorial and a primary school bears the name of a New Zealand soldier. Visiting New Zealanders are sure to receive a warm welcome from the locals."
The War Effort of New Zealand; The Codford Depot
To give you a little flavour of the times, above is an illustration of the NZ command depot, Codford, pictured in the War Art archives
… when the wounded or invalided soldiers were sufficiently recovered to leave Hornchurch, they were sent to the Command Depot at Codford to be "hardened" for further active service training.
… This, also, was the first stage on the return journey to the trenches.
Life after the War
After Egerton came back from the war, he moved with Edith May and her daughter Lily to 9 Edgerley Ave in Epsom, Auckland. The house has since been demolished to make way for what is now the Newmarket overpass for the motorway.
Egerton became a motorman and worked for the Transport Board. They had two daughters together, Thelma and Winifred (pictures at end of Egerton's story).
Egerton's mother, Elizabeth, was living with the family in Epsom when she died in 1929. She is buried in an unmarked grave at Waikumete Cemetery, west of Auckland.
It was only four years later when sadly Edith May Cecil died in a car accident in November 1933 in Waiuku, south of Auckland. Edith is buried in Hillsborough Cemetery in Auckland. Her grave is covered in burnt shells.
The desperately tragic story of the death of Edith May Cecil is told in these three pictures.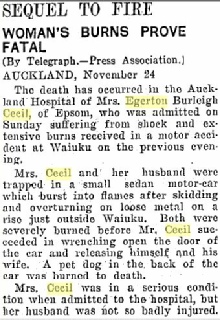 After the death of his first wife, Egerton lived alone at their house in Epsom. Then in 1944 he married Cassie Carter Dent (nee Natzke), who already had two children – Frank and Evelyn. Cassie was the sister of renowned opera singer Oscar Natzka; a brief biography is planned.
By 1949 Egerton and Cassie had moved to Te Mata near Thames. Egerton was retired but it was not long before they moved back up north to 6 Sidmouth St, Mairangi Bay in Auckland.
Together they lived there until Cassie died in 1962. His granddaughter Ninette remembers visiting him, his ankle always gave him grief and she remembers his limp.
Egerton's last move was to the Ranfurly Veterans' Rest Home in Mt Albert, Auckland.
Egerton Burleigh Cooper Cecil died of Myocardial Degeneration on the 28th February 1967.
On his death certificate it says that he was cremated at Waikumete Cemetery. They have no records of this so we don't know what happened to his ashes, or if indeed he was actually cremated there.
Egerton was a true Anzac soldier. He fought in the Boer War as an Australian soldier and in WW1 as a NZ soldier and in WW2 as an Instructor.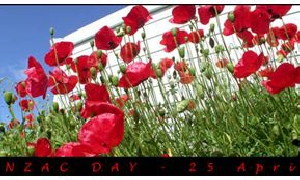 Egerton's children
Footnote
'Aubrey's Sons' has been compiled by Wendy Skelley in New Zealand, 2011 (wendy.skelley@xtra.co.nz)
Thanks to Egerton's granddaughters Ninette Skelley and Lorraine McNae for some background details and photos, Herbert Rogers for his amazing Boer War details and photos, Barbara Tearle for the 'A Victorian Mésalliance, or, Goings on at the Manor' and her inspiration to carry on the story and most of all a big thank you to my life-long partner, Tony Skelley, for enduring the hours while I tippity tapped away.