I suppose Wing wouldn't immediately spring to mind as a hotbed of Tearle activity, but this ancient little village, just over the border in Buckinghamshire from Leighton Buzzard, became a very busy spot when a blacksmith and his brother moved to Wing in the late 19thC to set up their houses and bring up their families. 133 years later, Tearles still live in Wing.
Below is the headstone for my g-grandfather, Levi, b27 July 1850 in Stanbridge and his wife, Sarah nee Blake b24 Aug 1851 also in Stanbridge. 
Levi and Amos are sons of James 1827, featured on the Stanbridge page, and Mary nee Andrews. Also recorded here are: 
Rose b1877, Wing
Edith b1892, Wing
Emily (Pugh) b1886, Wing.
These are some of Levi and Sarah's children.
Here are the summaries from all of the census returns in which Levi appeared. You can see the full extent of his and Sarah's family in the last two returns. His family called themselves "The Tribe of Levi."
1851 = James 1828 Stbg p1 Mary 23 in Stbg
1851 = James 1828 Stbg p2 Levi 8m in Stbg
1861 = James 1827 Todd Mary 31 Levi 11 Sarah 8 Elizabeth 5 Isabella 3 in Stbg
1871 = Levi 1851 Stbg apprentice blacksmith in Stbg
1881 = Levi 1851 Stbg p1 Sarah 29 Arthur 6 in Wing
1881 = Levi 1851 Stbg p2 Rose 3 Mahlon 11m in Wing
1891 = Levi 1851 Stbg Sarah 39 Arthur 16 Rose 13 Mahlon 19 Ellen 9 Ruth 7 Emily 4 Minnie 2 in Wing
1901 = Levi 1851 Stbg Sarah 49 Arthur 26 Ruth 17 Emily 14 Minnie 12 Edith 9 in Wing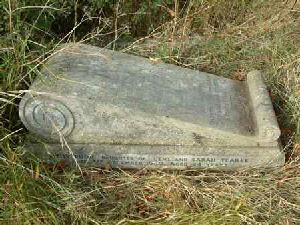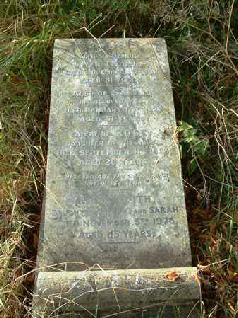 Some of the Tearles attended All Saints, the beautiful little Saxon church in Wing 
but Levi and his family were Methodists and attended the Methodist chapel (above right) down the road in Church St, where Levi was the superintendent of the Primitive Methodist Sunday School. This is now a private dwelling.
Levi and Sarah were married by banns in Stanbridge on 23 Mar 1874. Their son, Arthur, my grandfather, was born in Wing that December 24th. Levi's parents were James b1827 Toddington and Mary nee Andrews of Eggington. James parents were Thomas 1807 and Mary nee Garner. Thomas' parents were Richard 1773 and Elizabeth nee Bodsworth. Richard's parents were John 1741 and Martha nee Archer. Thus Levi is of the branch John 1741.
I suppose memorials don't always have to have a name on them. Apart from the beautiful house he built in Wing, Levi's lasting memorial will be the fencing he made for the property around Ascott House, Wing. This is the cricket ground fence.
Here is his house which he built in Stewkley Rd. In 1901, the Big House (the one on the left) was not built and Levi and family, including my grandfather, Arthur, were living in the cottage in the middle. The painted cottage contained Mr and Mrs Cutler and family. 
Jennie Pugh of Luton says that the house next door to that always contained the chauffeur from Ascott Hs and the Rothschilds sent the children of the chauffeur to a school in Leighton Buzzard that charged £3.00 per term. As far as I know, Levi did not build the two cottages, but Jennie says he did carve Ebenezer Cottages into their window sills, named after a (Methodist preacher?) friend of his.
The little tablet briefly records the family of Harry Tearle b1908 in Wing. He was a son of Mahlon and grandson of Levi. He married Millicent Green, from a very long-standing Wing family. 
They and two of their children – Roy, who died only nine years old and Thelma – all of whom died in Wing, are listed here. Thelma is actually buried in another section of the churchyard and here is her tablet.
Emily, Mahlon's sister, also has a sad story. In 1913 she married John Pugh, a butler, and had a son Ernest b1915, Wing. John Pugh joined the war in 1915 and lived and fought through it all as a sergeant machine gunner until just three months before the war ended. Here he is, on the war memorial in the Wing churchyard.
Emily stayed in Wing for the rest of her life, working as a maid for one of the local families. She is remembered on Levi's headstone, above.
Martha Timms lived across the Tilsworth Road from Amos when they were growing up in Stanbridge. They married in St Johns Stanbridge on 18 July 1881 and moved to Wing soon after Levi, Amos' elder brother, set up the smithy there. Amos was the blacksmith's assistant until Levi's son, Mahlon, took over the job. There is no memorial in Wing to Amos or Martha, but here is the headstone for Jeffrey, Amos' first son and his wife, Maud nee Cutler. Amos and his family are, of course, on the branch of John 1741.
Strictly speaking, the graffiti in the clock tower, below may not be called a memorial at all. I am pretty certain it was carved by a young Mahlon Tearle, perhaps while he was mending something to do with the bells, or the clock.

There is a great deal of information about Wing on a site dedicated to it, and all the events that have happened there.
Did you know, for instance, that when Levi lived in Wing, there were no fewer than three blacksmiths in the village – and at least one wheelwright.