The parents of almost all the Tearles alive today are a Stanbridge man called Thomas b1710 and his wife, Mary nee Sibley. They had five sons who carried the Tearle name – Joseph b1737, Thomas b1737, John b1741, William b1749 and Richard b1754. There was a Jabez b1745, but he never married and had no children. In order to positively identify any Tearle, I trace them back to one of these men. So where you see the statement, for instance, that John, below is on the branch of John 1741, you will know they are a descendant of John 1741 above. The Tearle Tree is built on this basis and we can trace almost any person who enquires to one of these branches.
In line with the south entrance of St John the Baptist Church, is a carved stone with a very old cross on it. Although it does not signify occupation in and around it, this stone does server to remind us that Stanbridge has been place of significance since before Roman times.
The clock on the church was donated by the villagers who raised money for it to celebrate the end of WW1. It was unveiled by the daughter of Lily Robinson nee Cox.
The memorial below is for John Tearle b16 Jan 1840 in Stanbridge; "For sixty years sexton of this parish." Also on the memorial are other members of John's family: Maria nee Bliss b1844 in Totternhoe, Frederick b1871 in Stanbridge and Sabina b1875 in Stanbridge. John Tearle was sexton while the Rev Thomas Green was making major upgrades to the fabric of St John's during the 1890s.
He is on the branch of John 1741.
The site below is for Eliza Tearle b1873 and Kate Tearle b1873, who died within months of each other in 1954 and are in this grave by the footpath.
They are the twin daughters of John the  sexton (mentioned above.)
Very close to the foot of the grave above, is the memorial to Phoebe Tearle b 1877 Stanbridge. She married George Horne, also of Stanbridge, and they left to seek their fortune in Leeds.  Phoebe is one of the daughters of John 1840, the sexton, and Maria. Note how close her memorial is to that of her sisters, Eliza and Kate. I am not certain that she is buried here.
Annie Rose is the sister of Kate and Eliza and thus a daughter of John the sexton. She died in 1950.
This little cluster of graves is interesting because others close by may be similarly related. You can see below that the graves of Eliza, Kate, Phoebe and Annie are a close little grouping. Research is continuing to see if other sites nearby are also Tearle graves by another name.
This headstone below is for James Tearle b15 Apr 1827 in Toddington and Mary nee Andrews, b1830 in Eggington. They were married in Stanbridge 26 July 1846.
James and John the sexton are brothers. James is my gg-grandfather. While his son Levi went on to become a skilled blacksmith, running a successful business in Wing, James always described himself simply as an agricultural labourer. After his father died, Levi travelled from Wing to see his mother, Mary Tearle nee Andrews, in Stanbridge almost every weekend.
James, too, is on the branch of John 1741.
The memorials to John and James are close together. It seems likely that the church paid for John's headstone, while Levi Tearle of Wing, their son, would have paid for James and Mary's headstone.
In an odd sort of way, this headstone below for Caroline Shillingworth and Charles is also a Tearle memorial, since in 1888, he married Mary Tearle, the widow of James Tearle, above. When he died in 1891, Mary went to his funeral as Mary Shillingford, widow of Charles and it was as Mary Shillingford that she married William  Tearle in the registry office in Watford. This William Tearle was the brother of both James and John above. His first wife was Catharine Fountain, universally known as Kate. Mary died in her son Levi's house in Wing in 1914 and William died in 1 Grovebury Rd, Leighton Buzzard in 1920. I have never found his burial, but it is in the Stanbridge churchyard.
Under the trees, to the south of the church, are the Methodist graves, and some of these are highly significant for us.
John Tearle d1818 and Elizabeth.
John, b1787 in Stanbridge, married Elizabeth Flint of Stanbridge on 4 May 1813. They had three children before he died in 1818, and they certainly made their mark.
Elizabeth remarried, to William Rickard, but you will notice his headstone nearby has his name only on it, whilst Elizabeth is written on John's headstone, but as Elizabeth Rickard. You will see John on the branch of Joseph 1737, because he is a son of Joseph 1737 and Phoebe nee Capp. This is one of the Methodist graves.
John and Deborah Olney  – notice the wonderful age they lived to. He owned and worked a 154 acre farm near Stanbridge, employing 6 labourers. They probably did not live on the farm since their house is in the village near the church. Deborah is a daughter of John 1787 and Elizabeth nee Flint, above. Also on this headstone is their son, James Olney b1837 Stanbridge.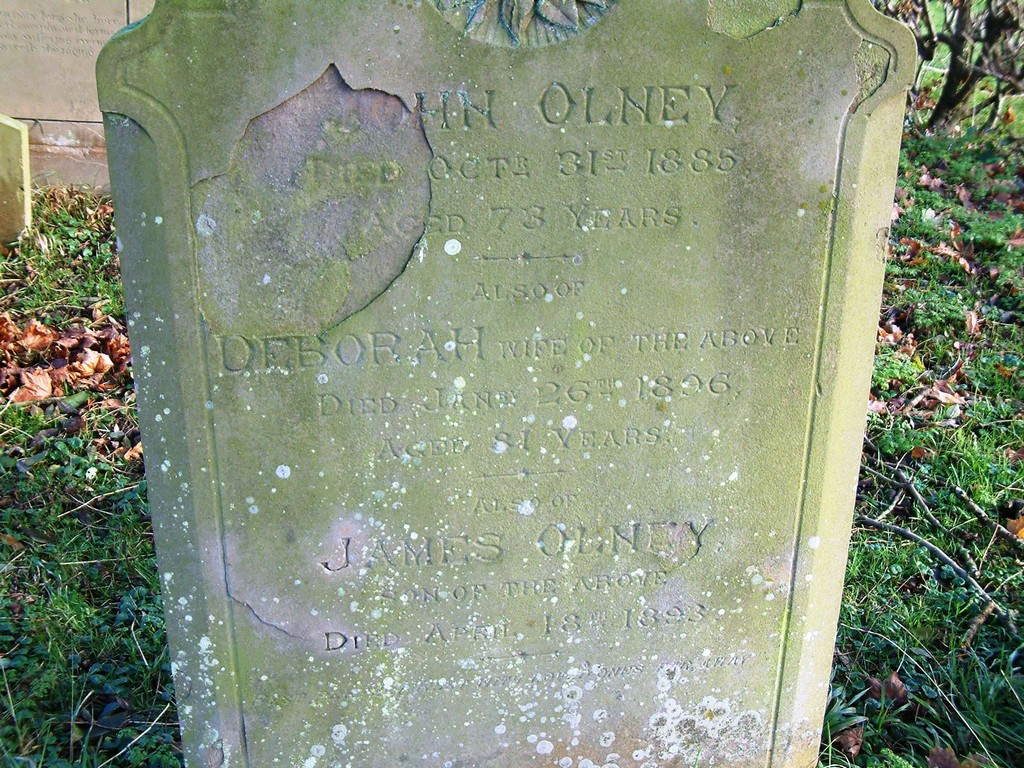 Deborah often gives her children the name Tearle as a middle name eg Hannah Tearle Olney – who may have died of cancer. She is named after Deborah's younger sister.
This small headstone is to their four children who died – Thomas and William can be seen written there, but the other two cannot.
Close to the headstone of John and Deborah Olney is this dark headstone to Catherine Conder who died in 1892. There is also Ethel Mary Conder who died just eight months old in 1891. And tragically recorded is the death of their son Thomas Olney Conder who died in Wega, W Africa, in 1897, in a scene mirroring that of Hannah and Henry Fleet, below, because he, too, was a Methodist missionary. Catherine Conder is Deborah's fourth child, born 1840 in Stanbridge.
Hannah Tearle b 30 June 1816 and Henry Fleet b1817. They were married in St Johns, Stanbridge in 1838.
Their memorial is inside the church and tells the story of their sad and early deaths. Hannah is the second daughter of John 1787 and Elizabeth, above, and was Deborah's younger sister.
The graves under the trees and this memorial to Hannah are of Methodists. There were two Methodist chapels in Stanbridge: the Wesleyan Chapel in Leighton Rd, from which this memorial was transferred to St Johns, and the Primitive Methodist chapel, which was next door to the school on Tilsworth Rd.
The memorial reads:
Hannah, the beloved wife of Henry Fleet and daughter of John and Elizabeth Tearle of this parish, who while on a voyage with her husband to Africa, was called to her eternal reward. Jan 1, 1839, aged 22 years.
Also of the above Henry Fleet, Wesleyan Missionary, who died at Sierra Leone, Western Africa, May 30 1839, aged 22 years.
An English custom worthy of note to the family historian; in England, it is the venue that is licensed to perform marriages. Since neither of the Methodist chapel had such a licence, marriages were performed in the Parish Church, in this case, St Johns. Likewise, burials could take place only in the St Johns churchyard; hence the Methodist marriages and the Methodist graves in a Church of England venue. It is sad to note that Methodist sites, until very recently, were on "unconsecrated ground" and the Parish Church did not have the the responsibility of their maintenance.

Another interesting thing about the Methodists is that according to "The Citizen"of Leighton Buzzard, 26 Feb 2004, "The village's first school was opened in June 1876 at the Primitive (Methodist) chapel. It catered for 80 children but was soon full and so a new school was built next door in 1881." I have often noticed in my wanderings around England that Methodist schools attached to, or run inside Methodist chapels often precede parish schools. The Methodists believed in reading the Bible, so of course you had to be able to read. Look up the story of the Tolepuddle martyrs. Methodism was for the poor, and the modern trade unions are the direct descendants of the early Methodists. The Tearles were at the very centre of that activity in Stanbridge.
At the end of WW1, a private initiative began that tried to tell the stories of the soldiers of WW1. It was called National Roll of the Great War and while volumes were written, the work could hardly be called comprehensive. However, it does include the stories of two Stanbridge men, who were lucky enough to survive the war.
Tearle, F J, Private, 8th Bedfordshire Regiment, who gave as his address Tilsworth Rd, Stanbridge. National Roll says:
He volunteered in March 1915, and in the same year was sent to France. During his service on the Western Front he was engaged in the fighting on the Somme, at Arras, Bullecourt and Cambrai, and was wounded on the Somme during the retreat of 1918. He was demobilised in November 1919, and holds the 1914-15 Star, the General Service and Victory Medals.
Tearle, E, Private, 7th Bedfordshire Regiment, also of Tilsworth Rd, Stanbridge. National Roll says of him:
He volunteered in September 1914 and in the following January proceeded overseas. He served on the Western Front and fought at Loos and the Somme, where he was wounded. On recovery he rejoined his Battalion, and was engaged in the fighting at Passchendale, Cambrai and in the Retreat and Advance of 1918. He was demobilised in March 1919, and holds the 1914-15 Star, and the General Service and Victory Medals.
These two boys, not surprisingly, were brothers, sons of John 1862 Stbg and Annie nee Walker. The first was Frederick John Tearle, 1884 Stbg regimental number 27560 Bedfordshire Regiment and 59749 Suffolk Regiment, and the other was Edgar Tearle, 1890 Stbg number 14397, Bedfordshire Regiment and 590090 Labour Corps. Edgar married Louisa Jane Abraham in 1922. They had a son Alan Richard T in 1926 and Edgar died on 1 Nov 1950 in the Churchill Hospital, Headington, Oxford, having lived in 12 Lamas Walk, Leighton Buzzard until his transfer to Churchill Hospital.
Alice died in April 1956, Frederick died in Sep 1956, and Eric, John and Annie's youngest son, died in July 1968.
John 1862 Stbg, was a son of James and Hannah nee Phillips. Here are John, Annie and family in the 1901 Stanbridge census:
1901 = John 1862 Annie 35 Frederick J 17 Edgar 10 Alice Agnes 6 Mabel Edith 1 in Stbg
As the enumerator walked down Tilsworth Rd, John and Annie were in the 59th house, just inside Pedars Lane.
When you read the service these two boys did for their country, and the horrific battles they fought in, there can be no wonder that Frederick could not (or would not) marry on returning to Stanbridge.
When Eric died in 1968 he was the last person in Stanbridge to carry the Tearle name. A name which had lived in this village since at least the late 1300s was gone.